A rich, compelling historical novel, and a mystery of royal intrigue…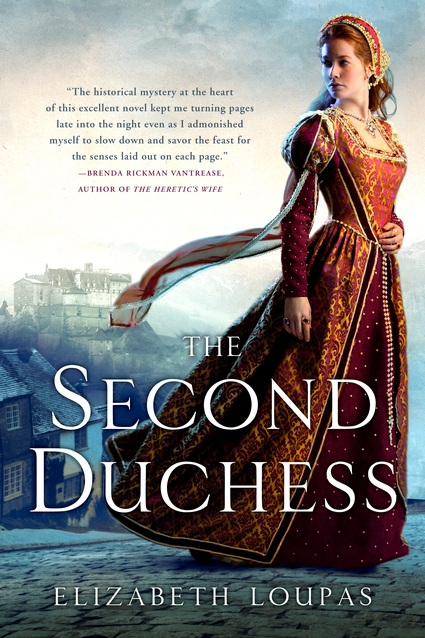 In a city-state known for its magnificence, where love affairs and conspiracies play out amidst brilliant painters, poets and musicians, the powerful and ambitious Alfonso d'Este, duke of Ferrara, takes a new bride. Half Europe is certain he murdered his first wife, Lucrezia, luminous child of the Medici. But no one dares accuse him, and no one has proof–least of all his second duchess, the older, plainer, and considerably more artful Barbara of Austria.
At first determined to ignore the rumors about her new husband, Barbara embraces the pleasures of the Ferrarese court. Yet wherever she turns she hears whispers of the first duchess's wayward life and mysterious death. Barbara asks questions–a dangerous mistake for a duchess of Ferrara. In the end, to save her own life, Barbara has no choice but to risk the duke's terrifying displeasure and discover the truth of Lucrezia's death–or she will share her fate.
Read the first chapter of The Second Duchess here.
The Second Duchess is available now at Amazon, Barnes & Noble, Powell's, Books-a-Million, Kobo, Google Play, iBookstore, and your favorite independent bookstore.
---
Praise for The Second Duchess
"Rich in historical detail and all the dangerous grandeur of court life in Renaissance Italy. Think The Other Boleyn Girl meets Rebecca." —C. S. Harris, author of the Sebastian St. Cyr Mystery series.
"I have rarely read a historical novel or mystery that I as fully, gladly inhabited as I did The Second Duchess. I felt actual regret as I neared its end because I did not want to part company with Elizabeth Loupas' complex, engaging, intriguing characters. With their world created in deep, believable detail around them, they were true to their time and place, thereby taking me well out of mine, which is the ideal (and all too rare) accomplishment of any work of historical fiction." —Margaret Frazer, double-Edgar-nominated author of the Dame Frevisse and Joliffe the Player mystery series.
"Utterly mesmerizing, captivating from the first page. Thick with shadowy court intrigues and lush period detail, The Second Duchess is a Renaissance masterpiece come to life." —Deanna Raybourn, author of the forthcoming Dark Road to Darjeerling.
"The historical mystery at the heart of this excellent novel kept me turning pages late into the night even as I admonished myself to slow down and savor the feast for the senses laid out on each page. The historical details and warring political factions of Renaissance Italy were convincingly and elegantly delivered, the story compelling, and the voice utterly intriguing. Hard to believe such a finely-crafted tale is the work of a debut novelist." —Brenda Rickman Vantrease, author of The Heretic's Wife.
"I've always loved Robert Browning's poem 'My Last Duchess' and the way Loupas springboards from that is a delight. I can hear the voice of Browning's duke in her Alfonso, and the way she departs from it into a mystery is very satisfying. The clothes, the manners, the food and decorations! She creates such a vivid sense of the magnificence of an Italian Renaissance court with her tissues of silver and braids of emeralds, silk stomachers and damascene daggers, candied angelica and rice pudding rolled in cinnamon; festivals, hunts, and balls all the more splendid because of the poisons and thumbscrews and murder going on underneath. Alfonso is fascinating…but Barbara is the jewel here. Her courage and candor seduce the reader as well as her enigmatic new husband. Applause for Elizabeth Loupas. I loved it." —Cecelia Holland, author of The Secret Eleanor and one of my favorite books of all time, Great Maria.
"Both a fascinating literary mystery and a rich historical novel, The Second Duchess is a feast of vibrant characters and a lush setting. Elizabeth Loupas has opened for us a lost world of ducal power and decadence and yet made her resilient Renaissance heroine one that a modern woman can admire and root for. Bravo!" —Karen Harper, author of Mistress Shakespeare and The Irish Princess.