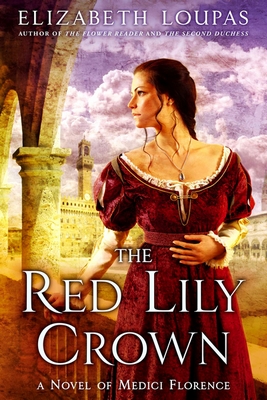 A story of intrigue, passion and murder in the Medici court…
April, 1574, Florence, Italy. Grand Duke Cosimo I de' Medici lies dying. The city is paralyzed with dread, for the next man to wear the red lily crown will be Prince Francesco: despotic, dangerous, and obsessed with alchemy.
Chiara Nerini, the troubled daughter of an anti-Medici bookseller, sets out to save her starving family by selling her dead father's rare alchemical equipment to the prince. Instead she is trapped in his household—imprisoned and forcibly initiated as a virgin acolyte in Francesco's quest for power and immortality. Undaunted, she seizes her chance to pursue undreamed-of power of her own.
Witness to sensuous intrigues and brutal murder plots, Chiara seeks a safe path through the labyrinth of Medici tyranny and deception. Beside her walks the prince's mysterious English alchemist Ruanno, her friend and teacher, driven by his own dark goals. Can Chiara trust him to keep her secrets…even to love her…or will he prove to be her most treacherous enemy of all?
The Red Lily Crown is available from Amazon, Barnes & Noble, Powell's Books, Books-a-Million, Google Play, and your favorite independent bookstore.

---
Praise for The Red Lily Crown…
"Elizabeth Loupas just gets better and better. The Red Lily Crown is Machiavelli meets The Brothers Grimm: a dark fairy tale with the addictive allure of a poison dream. Renaissance Florence springs to life in all its gorgeous, treacherous glory when a brave street urchin finds herself neck deep in Medici blood-lust. A dash of magic, a maze of murder, a heroine to root for, and a villain who needs to die—this is historical fiction at its most compelling." —Kate Quinn, author of The Serpent and the Pearl and The Lion and the Rose.
"Like the soror mystica who is the central figure of The Red Lily Crown, author Elizabeth Loupas works a kind of alchemy, evoking Renaissance Florence in all its splendor and decadence. Riddled with spies, intrigue, poison and passion, this novel set in the 16th century world of the Medici grand dukes is lush, provocative and fascinating." —Patricia Bracewell, author of Shadow on the Crown.
"With a deft hand and a dash of wit, Elizabeth Loupas combines alchemy, deadly secrets, a defiant young woman seeking her freedom, and a mysterious English stranger into a heady brew. This vivid and enthralling tale of 16th century Medici-ruled Florence brings to life all the brutality, deception, and glamour of one of history's most intoxicating eras. I could not put it down!" —C.W. Gortner, author of The Queen's Vow.
"The Red Lily Crown is Elizabeth Loupas' best novel yet, full of dark plots, well-drawn characters and dazzling authentic Florentine details. The daughter of a bookseller, Loupas' heroine, Chiara, is thrust by poverty and her own daring into the dangerous and decadent court of Grand Duke Francesco de' Medici. The Duke is obsessed with alchemy—particularly the creation of the Philosopher's Stone, which can defeat death. But the pursuit of immortality will lead to more death than life. With intelligence as sharp as her chin, and the help of a Cornish alchemist with a mysterious past, Chiara is determined to survive every intrigue, and the reader roots for her from the opening pages. It is a tribute to Loupas' ability to build and sustain suspense that we are never certain of the outcome—either of individual harrowing events or the novel as a whole–until the last pages are turned. You will race through this book and then find yourself wishing it did not have to end." —Sophie Perinot, author of The Sister Queens.
"Move over, Borgias. I'm enthralled by the world evoked in The Red Lily Crown: the magnificent, dangerous and deeply amoral court of the Medici in late 16th century Florence. And I fell in love with Chiara, a spunky alchemist's daughter who must use her wits to outmaneuver those who would not hesitate to kill for the secrets of the stone. A deliciously decadent page-turner." —Nancy Bilyeau, author of The Crown and The Chalice.
"Elizabeth Loupas works her own particular alchemy on her readers as she brings the heady elements of the Medici court to life—fascinating!" —Marina Fiorato, bestselling author of The Botticelli Secret and the upcoming The Venetian Bargain