Marina Leslie, The Five Senses, Writing | Elizabeth Loupas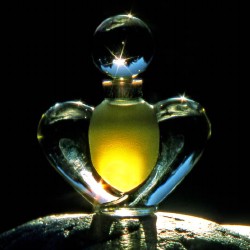 The introduction of this Nina Ricci perfume was my introduction to the word farouche. It is from the French, and means in general wild and shy and somewhat awkward, with an element of the outdoors. Its etymology dates to Old French forasche, from Late Latin forasticus, living outside, from Latin foras outdoors.
It is the one perfect word to describe my new heroine, Marina Leslie, called Rinette by her French mother. She has grown up mostly abandoned by her courtier parents, running wild in a crumbling Scottish castle with gardens by the sea, and she is farouche down to her bones—shy, willful, deeply connected to her beloved flowers, to wild animals, to the sea, and desperately ill-at-ease in formal or social situations. How does she end up at the deathbed of Mary of Guise, regent of Scotland, the single person that gallant and beleaguered queen trusts with an enigmatic and priceless secret? And what happens next?
Farouche the perfume incorporates top notes of mandarin orange, galbanum, peach and bergamot; middle notes are honeysuckle, carnation, iris, lily, clary sage, jasmine, lily-of-the-valley, rose, geranium and cardamom; base notes are sandalwood, amber, musk, oakmoss and vetiver. I think I will have Rinette concoct her own perfume with some of these elements. Just the list sets me dreaming. It's unfortunate Farouche has gone out of fashion and is no longer readily available. It is definitely the official perfume of my new book.
The photograph of the gorgeous Farouche bottle by Lalique is from print ads around the time of the perfume's debut, and was taken by Leora Long.