Happy New Year!, Mary Talbot, Work in Progress, Writing | Elizabeth Loupas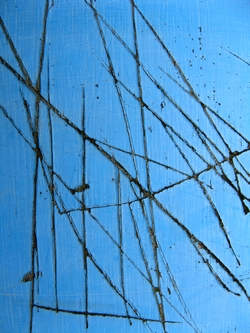 A lot has happened, and you know what? I'm just going to draw a line under it and start, as my dear mother used to say, from scratch.
I've put The Taste of Cloves aside for the moment. I will always love the sixteenth century—the Renaissance, that turning point between the Age of Faith and the Age of Reason—but fiction set in the sixteenth century seems to be "out" at the moment. Particularly if it's set in England. More particularly if it involves Anne Boleyn in any way. So my dear Mary Talbot and her beautiful white hunting hounds and her anguished triangle with Harry Percy and Anne B. will have to simmer on the back burner for a while. What goes around comes around, and her time will come another day. Simmering often makes things better, after all.
In the meantime, I'm pecking away (another of my mother's phrases) at a fabulous new project that's not really like anything I've written before. Well, in a way I suppose it is, because I'll always write about love and courage and beauty and the ultimate significance of the human spirit. But this has a contemporary setting (well, mostly contemporary—even the modern day always has underpinnings of history) and a distinctly Gothic flavor. It doesn't have a title yet. We'll see. I don't have a lot of time to write these days, but I always have to have something to be working on. Something new. Something started from scratch.