Well, the day finally came. The Second Duchess was released on March 1st, and is now in the wild at bookstores everywhere. I still don't quite believe it.
I'm posting a day early this week because later this morning I'm off to Houston for an appearance at the iconic Murder by the Book. If you're in Houston, please stop by! It's a great day for MBTB, with authors Patricia Briggs and Kim Harrison at 6pm, Sarwat Chadda and Rachel Hawkins at 3pm, and me (plus a melting-eyed bevy of adoptable beagles, courtesy of Houston Beagle and Hound Rescue) at 1pm. There is method in the beagle-rescue madness, because both of ours were adopted from HBHR, and of course there are two Elizabethan pocket beagles playing featured roles in The Second Duchess.
On the release day itself, March 1st, The Book Carriage in Roanoke hosted a wonderful party and gave The Second Duchess a fabulous send-off. I was very nervous, but the first question was "What's your book about?" and I started talking about the sixteenth century and Ferrara and the Este and Barbara of Austria and Robert Browning, and they pretty much had to bring out the hook to get me to stop. Heh. Here's a picture: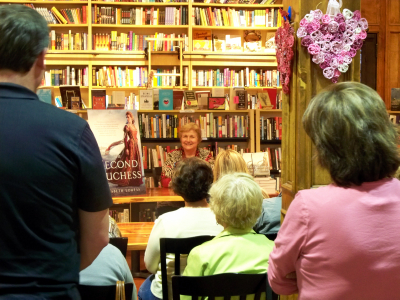 I'll check back in when we get home with all the details and more pictures, and some fabulous links.
And don't forget that this is Red Cross Month! Check the main Writers for the Red Cross page for daily blog posts, auctions, and book giveaways (including The Second Duchess) for donations.
Less than three weeks left until March 1st, The Second Duchess's official release date. I am excited, scared, thrilled, and anxious. Is this really happening at last? Sometimes it doesn't seem quite real. Have you pre-ordered? It would be wonderful if you would–you can place an advance order at your favorite bookstore or online at Amazon, Barnes & Noble, Powell's, Books-a-Million, and of course your favorite online independent bookstore. If you're in the Dallas Metroplex, please order from The Book Carriage. If you're in Houston, please order from Murder by the Book.
And speaking of The Book Carriage–this beautiful independent bookstore in Roanoke, Texas, is hosting my release-day booksigning event for The Second Duchess, from six to eight in the evening on March 1st. Roanoke is halfway between Dallas and Fort Worth, so convenient for everyone in the metroplex. If you're anywhere in the area, please come by to say hello! There will be an open bar (espresso bar, that is) and lots of fun and good conversation. The address, phone number and driving directions for The Book Carriage are here.
I've just been scheduled for my first live book club chat! This one is via telephone, although I can Skype as well. Would your book club like to read The Second Duchess? Would you like me to chat with you live (probably with beagles barking in the background)? Write to publicist Kayleigh Clark (Kayleigh dot Clark at us dot penguingroup dot com) at Penguin to make the arrangements. It's free! Yay!
Don't forget that March is Red Cross Month! Make a donation of $25 or more via Writers for the Red Cross and choose from hundreds of free books, including The Second Duchess.
Giveaways for The Second Duchess are still open at Goodreads and for Library Thing Early Reviewers. Sign up now—who knows? This may be your lucky day.
While we're on the subject of giveaways–next week here at Playacting on Paper I'm going to host my own little giveaway of two signed ARCs (Advance Reader Copies) of The Second Duchess. And my giveaway will be open to entries worldwide, so if you're outside the US, this is the one for you. I have to admit that I hate it when contests make me do stuff other than just leave a comment in order to win—so although I'd love to have you spread the word, my contest will be on the honor system. Leave a comment here—and do whatever you'd like to build the Duchess love. Tell a friend, ask at your local library, blog, tweet, post to Facebook or write a review. It'll be up to you, and your ideas will probably be more creative than anything I could ask for, anyway!
Haven't been doing much but working. I have a wonderful, detailed outline for The Flower Reader and it's an invaluable road map—it essentially keeps me on track with the major plot points, clues, character developments, and "what needs to happen now." On the other hand, the way things happen sometimes doesn't turn out to be what I expected at all. However much I may tear my hair out sometimes, storytelling is the thing I love to do most of all in the world.
Was sent an advance tearsheet of a great "Editor's Choice" review for The Second Duchess, to run in the February/Spring issue of Historical Novels Review, the journal of the Historical Novel Society. I am delighted! Want to read? Click here: The Historical Novels Review and scroll down a bit.
March is Red Cross Month, and Writers for the Red Cross is mounting a fantastic month-long series of blog posts and giveaways to raise funds for the Red Cross. Make a donation of $25 or more and choose from hundreds of free books, including The Second Duchess. Will post more about this as March approaches. For now, please "like" the Facebook page.
Was very sorry to read of the death of Ariana Franklin (Diana Norman), author of the wonderful "Mistress of the Art of Death" historical mysteries. I was hooked from the first book, and it's hard for me to imagine there will be no more. Vale, Ariana.
Writing-related Link of the Week: Finish Your Novel, a wonderful collection of essays by Timothy Hallinan, whose The Queen of Patpong is up for the 2011 Best Novel Edgar award. Queen of Patpong is the fourth of Hallinan's Bangkok-set Poke Rafferty thrillers, and it is fantastic.
Fun Link of the Week: A Femme d'Un Certain Age, where Tish Jett and her "evil twin" Cherie write about clothes, food, decorating, manners, style and life for ladies "forty-ish or whateverish," all with an elegant French twist.
Archives