Beagles, The Second Duchess, Writers for the Red Cross | Elizabeth Loupas
Well, the day finally came. The Second Duchess was released on March 1st, and is now in the wild at bookstores everywhere. I still don't quite believe it.
I'm posting a day early this week because later this morning I'm off to Houston for an appearance at the iconic Murder by the Book. If you're in Houston, please stop by! It's a great day for MBTB, with authors Patricia Briggs and Kim Harrison at 6pm, Sarwat Chadda and Rachel Hawkins at 3pm, and me (plus a melting-eyed bevy of adoptable beagles, courtesy of Houston Beagle and Hound Rescue) at 1pm. There is method in the beagle-rescue madness, because both of ours were adopted from HBHR, and of course there are two Elizabethan pocket beagles playing featured roles in The Second Duchess.
On the release day itself, March 1st, The Book Carriage in Roanoke hosted a wonderful party and gave The Second Duchess a fabulous send-off. I was very nervous, but the first question was "What's your book about?" and I started talking about the sixteenth century and Ferrara and the Este and Barbara of Austria and Robert Browning, and they pretty much had to bring out the hook to get me to stop. Heh. Here's a picture: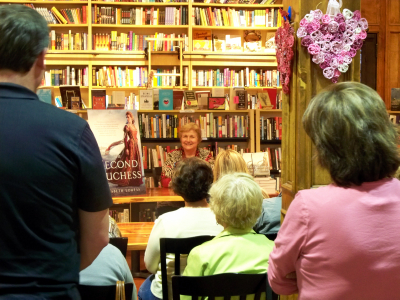 I'll check back in when we get home with all the details and more pictures, and some fabulous links.
And don't forget that this is Red Cross Month! Check the main Writers for the Red Cross page for daily blog posts, auctions, and book giveaways (including The Second Duchess) for donations.