Beagles, Holidays, The Second Duchess, The Silver Casket | Elizabeth Loupas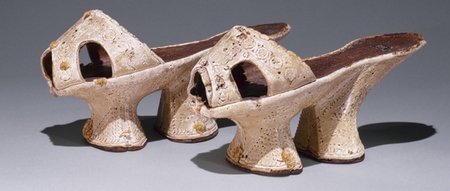 Happy First-Foot, as the Greeks say, for 2011! The beautiful sixteenth-century chopines above are Venetian, made of leather, silk and wood, and are in the collection of the Metropolitan Museum of Art. For an intriguing short essay on chopines, visit the Met here.
I am not making resolutions as such this year. Instead, I've been inspired by this wonderful post on one of my favorite websites, She Writes, about simply deciding what to take with one on the journey into the new year, and what to leave behind:
You CAN Take It With You by Tayari Jones
Cressie is continuing to heal. The Silver Casket is continuing to flourish, day by day. Time is continuing to count itself down to the debut of The Second Duchess on March 1st. All I can do is be thankful for all the good things in my life.
Happy happy 2011 to everyone!