Beagles, Research, The Taste of Cloves | Elizabeth Loupas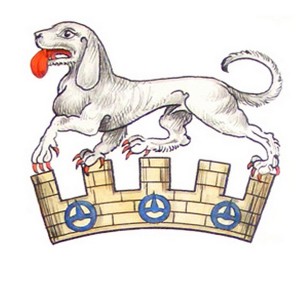 Sometimes perfect bits of history just fall into one's lap. You all know, of course, how I always like to have a beagle or two (or three or four) in my books. Well, while looking through images from Sheffield Cathedral this morning (more about that later), I came across a connection between the Earls of Shrewsbury and an extinct breed of hunting dog called the talbot.
As the family name of the Earls of Shrewsbury was Talbot, it was, of course, a perfect match. The first Earl of Shrewsbury was pictured presenting a book to Queen Margaret of Anjou, accompanied by a talbot.
And the coat of arms of the House of Talbot features two talbots as supporters. The effigy of George Talbot, the fourth Earl of Shrewsbury (more about him later, too), shows him with a wife on either side (obviously he was married to them sequentially and not in the cozy simultaneity of the effigy) and a faithful talbot at his feet.
The Talbot, Faithful unto Death
The talbot was a white scent hound with long soft ears, quite beagle-like in appearance (although if I let our beagles' claws grow as long as the claws in the drawing above, our vet would have my hide), and may very well be an ancestor of our modern beagles. There are beagles described as "lemon and white," which are white with very pale russet markings, and sometimes, particularly as puppies, can appear almost pure white.
I think you'll be able to count on meeting some talbots (and a modern beagle as well) in The Taste of Cloves….