Beagles, Contests, Reading, The Second Duchess | elizabeth
Well, one of those roller-coaster weeks this past week.
First, the winner of the free copy of Death of a Dancing Master is Penny Tuttle! Yay, Penny! I've sent your email address on to Marilyn and she'll send you your book.
The bad news of the week: poor Cressie hurt herself badly yesterday in the course of an early morning chase through the back yard. What she and Boo were chasing, I'll never know—it was still pitch dark and all I could hear was normal beagle barking. I had gone to the door to coax them in, because it was a little too early for that—and then a yelp of shock and pain. Cressie came hobbling out of the darkness on three legs, crying and trailing blood. The Broadcasting Legend™ and I bundled her instantly into the car and took off in the dark for the emergency vet's. Upshot: her left front leg was torn open right where it joins her chest, and her cephalid vein severed. Many stitches and fluids. Very fortunate we got her in as quickly as we did. She came home last night, bandaged to a fare-thee-well and still pretty woozy. She's up and about this morning (you can see the little baggie over the paw-end of her bandage to protect it when we go out) and more alert.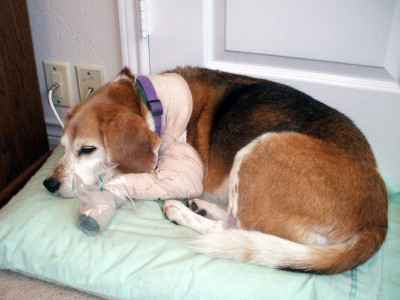 The vet didn't think it looked like a bite wound, although we've had some pretty aggressive wild critters in the back yard from time to time. We have gone over the back yard with a fine-tooth comb, trying to figure out how she could have hurt herself so terribly. We may never know. She certainly scared both of us half to death, and it may be a while before I let them out into the yard in the dark, unsupervised. I thought they were safe in our own securely-fenced back yard!
The good news of the week: a book club deal! The Second Duchess has been selected as a featured alternate for the Literary Guild, the Mystery Guild, the Doubleday Book Club, and the Book of the Month Club Online. Hooray for Barbara and Alfonso!
What I am reading: Cold Granite by Stuart MacBride. It's way outside my usual comfort zone and I'm not sure what I think of it yet…