Flowers, Gardening | Elizabeth Loupas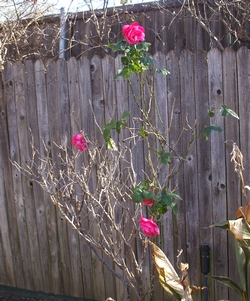 For the past three or four years, our roses have been dying. We had so many beautiful bushes—the Peace roses I carried when Jim and were married, the dazzling white Margaret Merril roses my dear mother (herself a Margaret) gave us as a gift, the perfect pink Queen Elizabeth tea roses, dozens of fragrant antique roses from David Austin Roses, even hedges of anonymous red roses—probably something called Knock Out roses—which came with the house. And all of them have been dying.
It seems we have been having a scourge of something called the rose rosette virus in North Texas. It's been spreading since 1998, and seemed to strike us here in Coppell three or four years ago. There's no help or cure for it—once your bushes are infected, they just die and that's that. It's best to pull them out before they spread the infection. And there's no point in replanting more roses as long as the rose rosette virus is so ubiquitous.
These beauties—on the last green stem of one of the anonymous red plants—are the last of all the beautiful roses in our back yard. Once spring is here, perhaps we can find something different to plant. But I hope some day we can put in antique roses again, not only for their beauty but for their heavenly fragrances.