Baking, Holidays, Research, Sprinkles, The Alchemist Prince | Elizabeth Loupas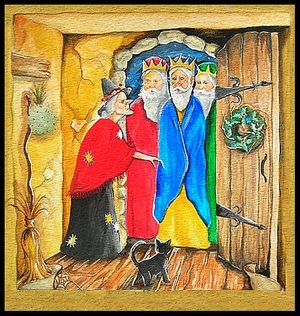 I've just finished writing a chapter set in the midst of sixteenth-century Florentine court revels for the Epiphany, also called Twelfth Night. In medieval and Renaissance times, gift-giving was associated with the Epiphany and not with Christmas day. And in Italy, children received gifts (if they were good—they got lumps of coal if they were bad) from la Befana, pictured at right.
La Befana, so the story goes, was an old woman whose greatest joy in life was keeping her cottage spic-and-span. She was in the midst of her sweeping when the Magi knocked on her door and invited her to join them as they searched for the Christ Child. She refused, being determined to finish her housework.
Later she regretted her decision, and with her broom she set out to catch up with the Magi and offer her own gifts to the Christ Child. To this day she is still looking for them, riding on her broom, and on the eve of Epiphany (in Italian "la Epifania" and "la Befana" are related words, and often used interchangeably) she gives her gifts to good children.
And of course since any hint of a cookie recipe always gets my attention, her traditional gifts are cookies called befanini. There are hundreds of different recipes out there, most of which seem to be pretty basic sugar-and-butter cookies spiced with anise and orange peel, occasionally spiked with rum or sambuca, and decorated with colored sprinkles. Here's an easy one, and here's a traditional one.
Buona Befana!