Research, The Alchemist Prince, The Second Duchess | Elizabeth Loupas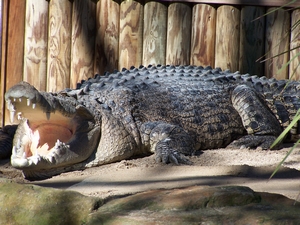 I do love research. And language.
This morning I was writing along and I came to a moment when someone (the Ferrarese ambassador at Cosimo de' Medici's funeral, which will make perfect sense to readers of The Second Duchess) is weeping large crocodile tears. I assumed this was some kind of modern figure of speech and went to my beloved Online Etymology Dictionary to check on it. Imagine my surprise to learn that the concept of crocodiles crying false tears goes back to at least the ninth century, figured prominently in medieval bestiaries, was spread widely in English by the mysterious and possibly fictional explorer/adventurer "Sir John Mandeville" in the fourteenth century, and turns up in two Shakespearean plays (Othello and Henry VI, Part 2). So crocodile tears it is.
One of the great joys of writing is that there's always something new and intriguing to learn.