History, The Alchemist Prince, The Second Duchess | Elizabeth Loupas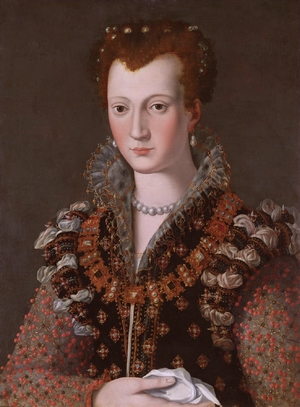 One meets the most interesting (and sometimes heartbreaking) people around the fringes of history. Here, for example, is Camilla Martelli, the second wife of Cosimo I de' Medici, the first grand duke of Tuscany. But was she the grand duchess? No. Cosimo married her morganatically (meaning she didn't get to share his title) and reluctantly, only because the Pope insisted he confess all his sins and regularize his life (Camilla had been his mistress for several years and borne him a daughter) before being elevated to the title of grand duke.
Poor Camilla. Cosimo's grown children loathed her (she was younger than both Francesco and Isabella), considering her vulgar and grasping. If the dress she's wearing in this portrait is any indication, she did have a rather gaudy taste in clothes and jewels. But to me she looks sad.
When Cosimo died in April 1574, the new grand duke Francesco immediately (the very same night!) sent Camilla to a convent called "Le Murate," which means "the walled-in ones." Needless to say, it was a prison for Camilla. Supposedly she made life for the actual nuns such a living hell with her hysterics that a few months later she was moved to a different convent with a somewhat less severe way of life—but imprisoned she remained, pretty much for the rest of her life. She was allowed out to attend the wedding of her daughter Virginia de' Medici to Cesare d'Este (remember the "weedy little boys," Duke Alfonso's nephews, in The Second Duchess? Well, Cesare was one of them), and once again, briefly, toward the end of her life; she apparently could not help attempting to meddle in politics and was soon forced back into the convent, where she died in 1590.
One is left to wonder why Francesco treated his stepmother so harshly. There is a hint in a letter in the Medici Archive in Florence, which comments that in January 1576 Camilla gave up her property, including her jewels and the villa were she and Cosimo had been living, the Villa di Castello, to her eight-year-old daughter Virginia. For all practical purposes this gave the property back to the Medici, and this property, particularly the Villa di Castello, may have been at the bottom of it all. There must have been more hysterics when Camilla learned that even after giving up her property, she was to remain behind convent walls—forever.