Birthdays, History, Holidays | Elizabeth Loupas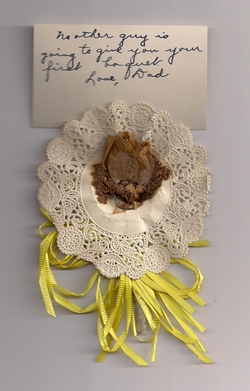 They warned my mother to beware the Ides of March, but (brave woman) she went ahead and had me anyway. My mother and my best friend, all through the long years of her life.
This picture, though, is about my father. Somewhere he conceived the romantic notion (so I guess I come by my own romantic notions legitimately) that he should be the first man to send his daughter flowers. So this rosebud with its now-fragile paper lace and silky ribbon was delivered to the hospital nursery with the accompanying card. Fortunately my mother saved it, and now here it is, many years later, pressed and tucked away in one of my many scrapbooks.
We had mince pie yesterday for Pi Day, and I have a perfectly gorgeous chocolate mini-cake (bigger than a cupcake, but not as big as a whole layer cake) for my birthday candles later today. At this rate, I'm going to have to work in extra exercise and no sweets for the rest of the month! But it will be so worth it…