Beagles | Elizabeth Loupas
I'll write about my dogs from time to time, I'm sure, so I'll introduce them now: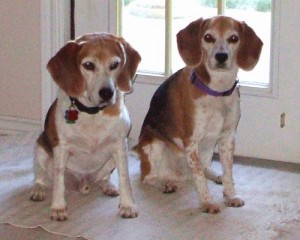 On the left, Boudin, so named because he is a Cajun doggie adopted through a Houston rescue organization. And of course food products always make good names for beagles. On the right, Cressie, also a rescue, a native of Canada.
My book features two "pocket beagles" (a gift to the new Duchess Barbara from Elizabeth Queen of England) named Tristo and Isa, who are based on my own beagles.