Food Glorious Food, History | Elizabeth Loupas
Yesterday I posted a recipe I used to bake chicken in the here and now. Just for fun, here's a recipe the cooks in Barbara's kitchen might have used for a somewhat similar dish.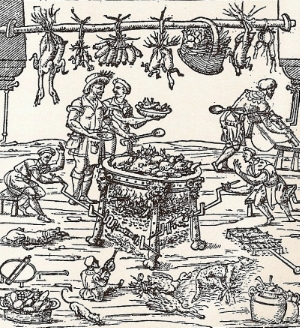 Take parcelly, Sauge, Isoppe, Rose Mary, and tyme, and breke hit bitwen thi hondes, and stoppe the Capon there-with;
Colour hym with Safferon, and couche him in a erthen potte, or of brasse, and ley splentes underneth and al about the sides, that the Capon touche no thinge of the potte;
Strawe good herbes in the potte, and put thereto a pottel of the best wyn that thou may gete, and none other licour; hele the potte with a close led, and stoppe hit aboute with dogh or bater, that no eier come oute;
And set hit on the faire charcole, and lete it seeth easly and longe till hit be ynowe.
And if hit be an erthen potte, then set hit on the fire whan thou takest hit downe, and lete hit not touche the grounde for breking;
And whan the hete is ouer past, take oute the Capon with a prik;
Then make a sirippe of wyne, Reysons of corance, sugur and safferon, And boile hit a litull; medel pouder of Ginger with a litul of the same wyn, and do thereto;
Then do awey the fatte of the sewe of the Capon, And do the Siryppe to the sewe, and powre hit on the capon, and serue it forth.
I love the language. "Couch him in an earthen pot." "The best wine that thou may get." This actually sounds pretty good, once one puzzles out the directions.
Recipe for "Capons Stwed" courtesy Cariadoc's Miscellany.