Pedometer | Elizabeth Loupas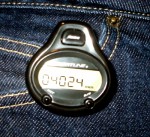 I have a new project: 10,000 steps. People who are supposed to know such things say it's a Good Thing to walk 10,000 steps a day. So I bought a pedometer and tried it. Well, as you can see, so far today I'm a total washout. And this includes our regular walk with the doggies! Clearly I'm going to have to walk two or three times a day with the dogs (cue sound of two beagles baying with joy) or something.
As a side note, I made the Broadcasting Legend™'s day when he walked into my office and saw me shooting pictures of my own hip. He's still laughing.