Gardening, History, The Five Senses | Elizabeth Loupas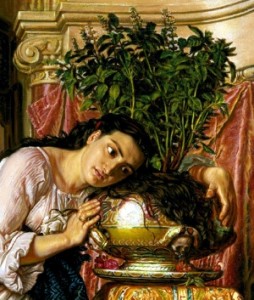 We're in "zone 8" here along the Elm Fork of the Trinity, which means our last frost-free date is in early April. Time for me to start thinking about my garden for 2009! I do love my garden, although I'm not quite as intense about it as Isabella was about her pot of basil!
I always start with a salad garden—tomatoes, red and gold peppers, cucumbers and lettuce. The garden plot is a twelve-foot square divided into four quarters: one quarter for the tomatoes, one for the peppers, one for the cukes and one for the lettuce. The cukes and the lettuce I'll grow from seed. I'll buy plants for the tomatoes and peppers. Mmmm—tomatoes fresh out of the garden. There is nothing like them.
I like to plant herbs in containers, in nooks and crannies around the yard, and in the salad garden between the vegetable sections. This year I want oregano and a couple of types of basil, dill and mint, Italian parsley and cilantro, some thyme and sage and mint and lavender, plus chamomile and lemon balm for teas. I have to admit that I don't cook with fresh herbs as much as I probably should, but I love growing them because they're so fragrant. And they're infused with so much history. When I pick leaves of thyme and sage and lavender and breathe in their scents, I feel as if I'm part of a long, long line of women who've grown and used herbs back to the dawn of time.