Beagles | Elizabeth Loupas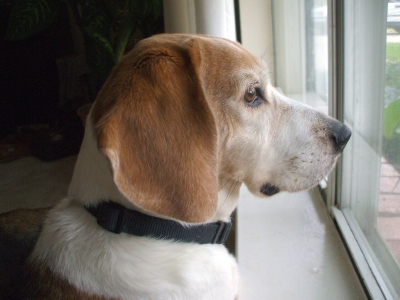 Boo sits at our front windows and waits for intruders. This means little girls on bicycles, teenage boys on scooters, frisking squirrels and rabbits in the front yard, and other dogs being walked along the front sidewalk. In our neighborhood that includes Golden Retrievers, Chocolate Labs, a Min-Pin, a magnificent and playful Weimaraner, a Dachshund-Poodle mix named Max (I suggested "Yankee" because as a Dachshund-Poodle he was clearly a Doodle, but for some reason that didn't fly), and most dangerous of all, the Schnauzer.
Boo barks at all of them. Mostly he's just chatting. But we always know when the poor woman with the Schnauzer walks by, because Boo goes ballistic. We have no idea why the Schnauzer in particular is The Enemy, but when Boo sees him he flings himself at the window and howls his beagle howl. The Broadcasting Legend™ and I look at each other and say wisely, "Must be the Schnauzer."
Good thing we have Boo, or we'd be overrun with Schnauzers.