Beagles | Elizabeth Loupas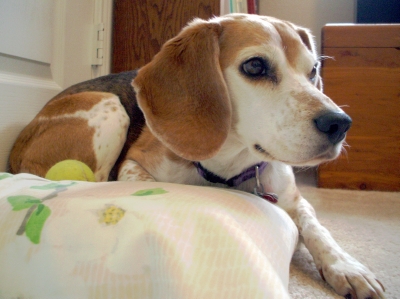 Cressie has been sulking since I posted the picture of Boo. "Me me me!" she's been whimpering. "Me too!" So here she is.
There's a story behind this picture. (Isn't there always?) As you can see Cressie had collected a tennis ball from somewhere, and to make sure it was safe from predators (those Schnauzers, you know) she took it to her pillow with her when it was time for her afternoon nap.
I thought she was so cute curled up around her tennis ball that I got down on the floor to take a picture. Just then the Broadcasting Legend™ opened the refrigerator door. Both dogs can hear that refrigerator door from anywhere in the house. (Actually, they could probably hear it from down the street.) Her head came up and she put out one paw preparatory to leaping up and running into the kitchen just in case Master dropped a pot roast. Then she froze. I could see her little mental wheels going around. Tennis ball? Pot roast? Tennis ball? Pot roast? I snapped the shot at the last possible moment, because in the next second she was up and gone.
Poor tennis ball. It just didn't measure up.