Beagles, Gardening, The Broadcasting Legend™, Weather | Elizabeth Loupas
This morning the Broadcasting Legend™ happened to look out our front window, and this is what he saw among the plantings: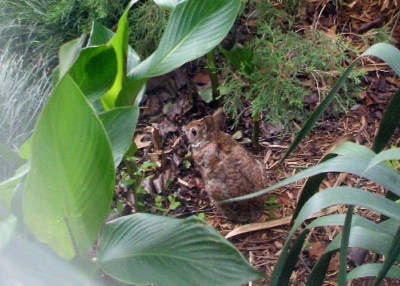 He called the doggies. (Who could resist?) Chaos ensued. It turned out there were actually two bunnies under the bushes. They calmly went on eating our tender new calla lily leaves as the dogs howled their heads off inside and I tried to fight my way to the window to take pictures. We have three or four generations a year of rabbits in our neighborhood, and by now I suspect the "Pay no attention to the man beagle behind the curtain window" gene is bred into them.
A fine start to a gray, stormy Sunday.