Books, Christmas Shopping | Elizabeth Loupas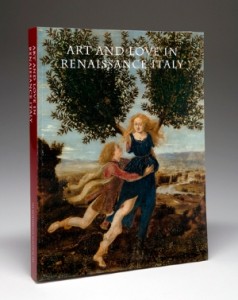 I'm going to devote the month of December to featuring some wonderful books that are on my own Christmas gift lists (some to give, some to receive, some both). Maybe you'll get some ideas as well.
Leading off, Art and Love in Renaissance Italy, the catalogue of the magnificent exhibition organized by The Metropolitan Museum of Art, New York, and the Kimbell Art Museum, Fort Worth. I saw this when it was in Fort Worth and it leaves me at a loss for words—it was simply extraordinary. This gorgeous book is a worthy companion to the exhibition—it's crammed with illustrations of paintings and artifacts connected with love and marriage in the Renaissance—vases, books, jewelry, panels, glass vessels, musical instruments, and much more. The scholarly and fascinating essays accompanying the illustrations include snippets of historical documents—letters, lists of dowry items, marriage negotiations—and wonderful, insightful (and occasionally deliciously bawdy) discussion. Anyone interested in history, art or love (isn't everyone interested in love?) will be delighted to receive this beautiful book. A paperback edition is also available.
Art and Love in Renaissance Italy is available at Amazon, Barnes & Noble, the Kimbell Art Museum, and your favorite independent bookseller.