Books, Christmas Shopping | Elizabeth Loupas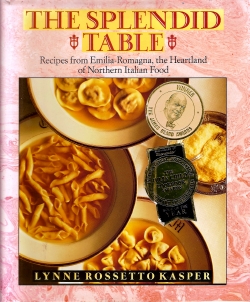 What holiday book-shopping list is complete without a few fabulous cookbooks? The Splendid Table by Lynne Rossetto Kasper is one of my own favorites—I've scanned the well-worn jacket, with its frayed stickers proclaiming the book to be a James Beard Award winner and the Julia Child Cookbook Awards Book of the Year. It was originally published in 1992 and is still going strong. My copy is a first edition and was purchased long before I had any inkling I was going to write The Second Duchess—but I must have had a moment of prescience because this book is focused on the Emilia-Romagna and simply crammed with tidbits (in all senses of the world) about cooking in the sixteenth century in Ferrara. I turned to it again and again as I imagined the sumptuous banquets and intimate suppers my Barbara and Alfonso enjoyed.
If you like Italian food, you simply must have this gorgeous book in your collection. Not only does it offer recipes—and what recipes!—it is full of historical notes, sketches, mini-biographies, folklore (did you know that hollow maccheroni like penne were served to celebrate the birth of a male child?) and whole sections on the historical background and making of northern Italian specialties like Parmigiano-Reggiano cheese, Proscuito di Parma, and of course the queen of vinegars, Modena's famous aceto balsamico. There's a slew of beautiful color plates, but I have to confess I like the line drawings and reproductions of Renaissance engravings and woodcuts better. How I pored over the chapter entitled "The Sweet Pastas of the Renaissance"! Barbara and Alfonso enjoy a few of the treats from this chapter, particularly the Torta di Tagliarini Ferrarese, or Sweet Tagliarini Tart of Ferrara. Legend holds this dish was created by court cooks of Ferrara for the wedding of Lucrezia Borgia to Ercole II d'Este, as an homage to Lucrezia's glorious golden hair. (Lucrezia was my Alfonso's grandmother.)
The Splendid Table: Recipes from Emilia-Romagna, the Heartland of Northern Italian Food, by Lynne Rossetto Kasper, is available at Barnes & Noble, Amazon, Books-a-Million, and of course from your favorite independent bookseller.