Books, Christmas Shopping | Elizabeth Loupas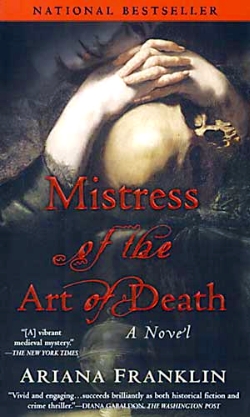 For day ten of our holiday book-shopping adventure, I'm going back to my own favorite, historical fiction, in this case with a twist of historical mystery. Mistress of the Art of Death by Ariana Franklin is the first of three books featuring Adelia Aguilar, trained in the medical school of Salerno, a foundling raised by two Salernitan doctors, one a Jewish man, one a Christian woman. Both her background and her education as a doctor to the dead—a mistress of the art of death—make her an exotic curiosity in twelfth-century England—a Ruth, as she puts it, among the alien corn.
Sent to England by the King of Sicily, at the request of Henry II (Henry actually asked for a "master of the art of death," so imagine his surprise at receiving a mistress), Adelia's task is to find out the truth behind a series of grisly child murders in medieval Cambridge. The details are not for the faint of heart, although Adelia's brusque but heartfelt sympathy as she pursues the truth mitigate some of the horror. As the Washington Post says, Mistress of the Art of Death is "a historical mystery that succeeds brilliantly as both historical fiction and crime-thriller."
The two subsequent books in this series are The Serpent's Tale (featuring Rosamund Clifford, the "fair Rosamund" of the legendary labyrinthine bower—I am a complete sucker for any tale of fair Rosamund) and Grave Goods (set in the holy town of Glastonbury and centered upon Adelia's examination of the putative bones of Arthur and Guinevere). But I always like to read series of books like this in order, so I urge you to start with Mistress of the Art of Death. And I do envy you the pleasures you have in store.
All of Ariana Franklin's Mistress of the Art of Death books are available at Amazon, Barnes & Noble, Books-a-Million, and of course your favorite independent bookstore.