Books, Christmas Shopping | Elizabeth Loupas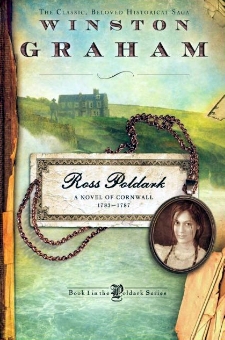 Ross Poldark by Winston Graham is back, in new trade-sized reprints with gorgeous new covers. I have crumbling mass-market paperbacks (which were originally issued as tie-ins with the BBC television series, I think) and I think it's time to update. If you—or someone on your gift list, of course—haven't met Ross Poldark you have an unforgettable experience ahead of you with the saga of the Poldarks of Nampara, played out over twelve novels.
As an aside, I always envy the people who haven't yet read the books I love. Gone with the Wind. The whole Angélique series by Sergeanne Golon. The Crawford of Lymond novels by the incomparable Dorothy Dunnett. Spangle and The Journeyer by Gary Jennings. The early Saint-Germain novels by Chelsea Quinn Yarbro. Shogun by James Clavell. Oh, I could go on and on. I re-read them, and re-reading is a wonderful thing, but it's not quite the same as that breathless first reading.
Anyway. Back to Ross Poldark. Ross is an Englishman, a soldier on the losing side of the war in America, come home in 1783 to a derelict estate in copper-mining Cornwall. He finds the woman he's loved with peculiar intensity all through the years of war and separation preparing to marry to his cousin. And from there the story rockets on. There's a teeming, colorful cast of characters, sharply drawn (I love whiskery old Aunt Agatha and the crop-tailed mongrel dog of "unimaginable parentage," Garrick), from which eventually emerges the grubby, spitfire urchin Demelza Carne, first Ross's kitchenmaid, ultimately his wife in the teeth of society's disapproval.
There are various printings of the Poldark books—the one shown here is simply the newest in a long line. They're well worth collecting, whether the covers match or not. (And for that matter, whether they're new or not.) Search for "Ross Poldark" at Amazon, Barnes & Noble, Books-a-Million, and of course at your favorite independent bookstore. In these last few days before Christmas shop a nearby brick-and-mortar bookstore to avoid expedited shipping charges.