Books, Christmas Shopping | Elizabeth Loupas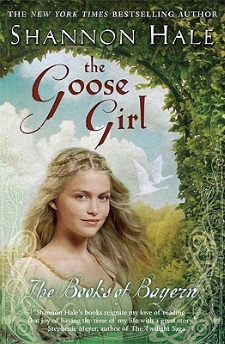 [I invited our beautiful eldest granddaughter Bella K. to guest-blog about a YA book she'd give as a gift. Here's the delightful result.]
Hello, granddaughter of the Broadcasting Legend™ and the Time Traveler here to tell you about a fairytale first written by Grimm but twisted by one of my favorite Newbery-Honor-winning authors, Shannon Hale.
I can't remember a time when I didn't love fairy tales; I have princess dresses of every size from all ages. As my dress size got larger I started to see the unjustifiable bias against the fairer sex. The guys always got to be the heroes in fairy tales so I began to wonder… What would happen if the girls got to be the heroes? I was elated to discover the realm of twisted fairy tales where girls stepped forth as adventurers. Regrettably, the boys became… how shall I say it… less than Mr. Darcy. [LOL! —Elizabeth] Finally, I stumbled upon Shannon Hale's The Goose Girl. At last, a story void of a single weak character! A daring princess, murderers, an unyielding prince, betrayers, evil impostors, heroic animal keepers, rescuers, and just a tad of romance. It blew my mind!
Anidori-Kiladra Talianna Isilee was born Crown Princess of Kildenree but after the death of her father, life takes a desperately wrong turn. First, her brother usurps her place of succession, becoming Crown Prince as she is sent away to marry the prince of the neighboring country, Bayern. Unfortunately, her lady-in-waiting Selia is not content to be a lady-in-waiting, and soon there is an evil revolt among the camp. In an instant, life is changed for Isi (as her true friends call her). She must hide her beautiful blonde hair to disguise herself from Selia's evil guards in the dark-haired land of Bayern, while her impostor threatens the throne. When she is designated caretaker of the Bayern king's geese, she is welcomed into an unpretentious world she never knew. Isi must learn who to trust and who to forgive if she is going to save the Kildenree from a deadly danger that could wipe out the entire country.
This small summary has just scratched the surface of what this book has to offer. Shannon Hale doesn't just create a story, she creates a world that swallows you up and you never want to leave. The characters become your friends and you are genuinely worried about where their predicaments will lead them.
No matter how many times I've read Shannon Hale's books, I always find myself in a place where I just can't stop reading. The Goose Girl is only the first of what I hope will be a long series called the Books of Bayern, followed by Enna Burning, River Secrets, and Shannon's newest creation Forest Born. These books are good for anyone on your list, big or small. Nothing beats a well-written book with fabulous characters and a plot so complex even I couldn't guess the ending.
Find The Goose Girl and all Shannon Hale's books at Barnes & Noble, Amazon, Books-a-Million, and of course your favorite independent bookstore. Buy in person at your favorite brick-and-mortar bookstore to have your books in time for Christmas!