Flowers, Gardening | Elizabeth Loupas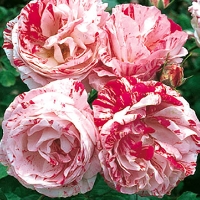 We're awaiting two new additions to our rose family this year—one of our venerable "Peace" bushes (we had two, from which I cut the flowers I carried when The Broadcasting Legend™ and I were married) gave up the ghost this past summer and we have a spot to fill. Enter "Scentimental" and "Double Delight," from my favorite purveyor of all things rose, David Austin Roses.
"Scentimental" is the peppermint-striped one—beautiful and unusual, with no two flowers alike. The scent is a very rich rose-spice, ergo the name.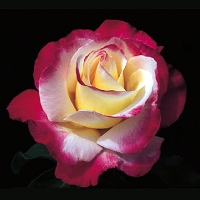 "Double Delight" looks rather like a "Peace" that's gone over to the dark side—deeper crimson edges to the petals and a creamy-gold heart. It also has a fabulous fragrance (one of our requirements for roses), described as both spicy and fruity.
I'm looking forward to planting these and nurturing them along, although I must say that the names "Scentimental" and "Double Delight" are not as romantic or literary as the names of some of our other roses. How can they compare with "Jude the Obscure" or "Fair Bianca" or "Eglantyne"? Once we have them settled in their new homes, we may have to re-name them so they feel comfortable with their siblings.