Food Glorious Food, The Second Duchess, The Silver Casket, Writing | Elizabeth Loupas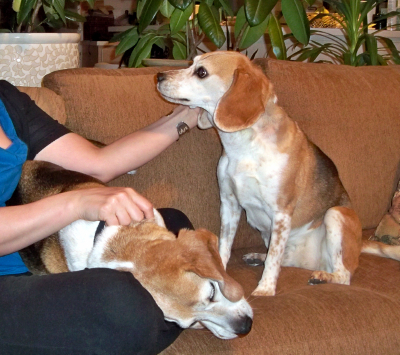 To whom do these lovely and mysterious arms belong? (No, not the Venus de Milo, silly.) Who is sitting on our couch playing with Cressie and Boo? Why, it's Agent Diana, in town for a conference and here to spend some very intense time discussing The Silver Casket.
It was wonderful to meet Agent D. face-to-face for the first time. We devoured incredible prime steaks, exotic chocolates steeped in fruit and liqueurs; saganaki, spanokopita and tzatziki; and lovely cupcakes. Did we do anything but eat? Heh. Well, yes. We spent hours talking about The Silver Casket, books, The Second Duchess, books, the conference, books, promotion and bookstores, and oh yes—books.
Agent D. is now on her way back to New York after waving a sad goodbye to the beagle duo, and I'm on my way back to my hermitage to write up notes on everything we talked about…