Astronomy, Books, History | Elizabeth Loupas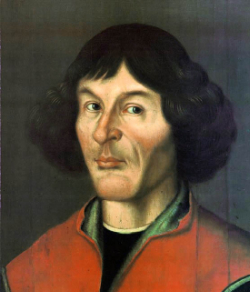 This past weekend, Nicolaus Copernicus' remains were re-buried with great honor in a cathedral in Frombork, Poland, after spending over 460 years under the floor of the same cathedral in an unmarked grave.
This is all very well and it's excellent to see Copernicus vindicated at last, but if his body was buried in 1543 in an unmarked grave—how did they know they had the right person?
It turns out scientists began looking for Copernicus back in 2004—they knew he'd been buried under the floor of the cathedral but didn't know where. They found the skull and bones of a man of about the right age, and did a computer reconstruction of the face (hello, Bones) that resembled a portrait Copernicus drew of himself. Suggestive, but not conclusive.
Then the most amazing thing happened. They leafed through a book known to have belonged to Copernicus and found hairs. (I also pull my hair out over books from time to time, so I can relate.) They extracted DNA from the bones they'd found and from the hairs and eureka! A match.
So now Copernicus lies under a black granite tombstone identifying him as the founder of the heliocentric theory (well, not really, but the first to model it in full mathematical detail) and a canon of the Roman Catholic church. The stone is inlaid with a design representing the solar system, a golden sun encircled by six planets (the only ones they'd discovered at the time Copernicus lived).
One of the most poignant things about the whole story is that Copernicus published his masterwork De Revolutionibus Orbium Coelestium in the last year of his life. Supposedly the first printed copy was placed in his hands the day he died. One can only imagine what he felt.
Rest well, Master Nicolaus.