Beagles, Washerwomen's Wrists | Elizabeth Loupas
Having recently made the acquaintance (figuratively speaking) of the charming Dr. Fritz de Quervain (who not only had radial styloid tenosynovitis named after him, but introduced iodized table salt), I have been on the lookout for ways to avoid grasping and twisting my wrist at the same time. As an historical aside, de Quervain's tenosynovitis was once know as "Washerwoman's Wrists" because women who did washing for a living did a lot of simultaneous grasping and twisting with their hands. But I digress.
I realized that walking the doggies every day with Flexis was probably one of the worst things I could be doing—manipulating the thumb button while the dog pulls one's wrist in every direction. So I dug around on the web a bit and came up with these: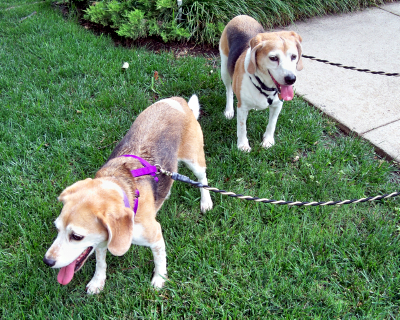 Bun-Gee-Pup-EEs! (No, I'm not kidding.) Despite the silly name, they are great for anyone with fragile wrists and/or hands. They have padded wrist straps and braided bungee cords, so the dog kind of boings along on the end of the leash whenever it pulls. Much softer impact on wrists, and complete rest for the thumbs.
As you can see by the hanging tongues, the dogs had a good time too.