Beagles | Elizabeth Loupas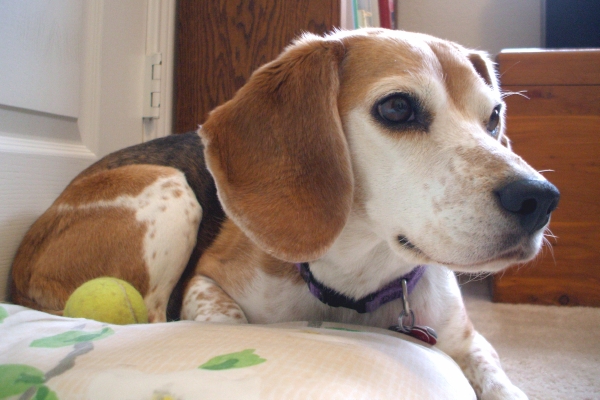 When you were a kid, did your mother always call you by both your first name and your middle name when you were in trouble? Ours certainly did. And as the doggies are occasionally in trouble as well, they have to have middle names as well. Cressie's turned out to be "Marie." When she's really been bad, she gets the whole thing–"Cressalinda Marie!"
However, our little Cress isn't in trouble at the moment–she's recovering from a terrifying attack of Canine Vestibular Disorder that struck her yesterday out of the blue. Remember when Boo had it last year? I suppose with two senior (first strike against them) beagles (second strike, as beagles seem to be particularly susceptible) in the house, it's not surprising that it's affected them both.
Anyway, Cressie had a terrible day yesterday. Fortunately I had all my journal notes for what we did with Boo, and so we managed to make her comfortable at last, and by evening got her drinking water and eating a little plain boiled rice. She's still very stagger-y this morning, and although she'll drink, she hasn't been willing to eat anything yet. (I know, a beagle who won't eat. Not something one sees very often.) I'm keeping her here with me, and hopefully her medication will kick in and she'll be willing to eat a bit.
Poor Cressalinda Marie. It tears your heart out to see her staggering and falling. But at least we've been through it before with Boudin, and he's muchly recovered. Plenty of fluids, good nursing care, and anti-nausea meds should help Cressie recover as well. Hang in there, little girl!