Life, Writing | Elizabeth Loupas
Most writers will tell you they started writing stories as children, always knew they wanted to be writers, and identified with Jo in Little Women. My path to the writing life was a little more circuitous. (As is the story of my life in general. Heh. But anyway.)
I playacted as a child. I sewed endless outfits for my Ginny doll (this was pre-Barbie, thank God, when dolls for little girls still looked like little girls) and played out stories with her. I acted out endless stories with paper dolls, plastic horses, and my poor hapless sister and friends.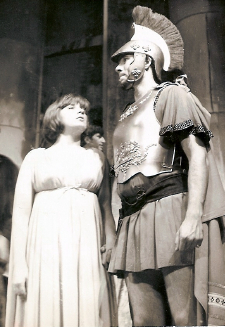 I loved wonderful adventurous and romantic stories (usually in some historical setting) and imagined them vividly, but didn't think so much about writing them down. I did draw pictures. Most of my family was musical, and so I proudly proclaimed myself to be "artical." It didn't occur to me to imagine myself as "writical."
For a while I actually thought I wanted to be an actress. (See evidence, right.) Then I got sidetracked into radio and started acting out stories with voices and sound effects in endless "slice-of-life" commercials. It was only much later that it seriously occurred to me to actually write down a story. And when I did, it came out as—well, playacting on paper. And that is what I'm doing, to this day. I act out the parts as I write, much to the amusement of the Broadcasting Legend™ and the puzzlement of the beagles.
And I wanted to be Beth in Little Women. Everybody loved her! I wanted everybody to love me! And anyway, what actress can resist a good death scene?