Beagles, Weather | Elizabeth Loupas
It's pouring rain this morning, as the remnants of Hurricane Tropical Storm Tropical Depression Hermine blow through the Dallas-Fort Worth metroplex. I let the doggies out as usual and Boudin, sensible beagle that he is, did what he needed to do and came straight back in the house. Not so our Cress. She caught a scent (the second generation of 2010 bunnies is presently running rampant through the neighborhood) and tracked it from one end of the yard to the other for a good hour. Eventually, this little tri-color drowned rat showed up at the door: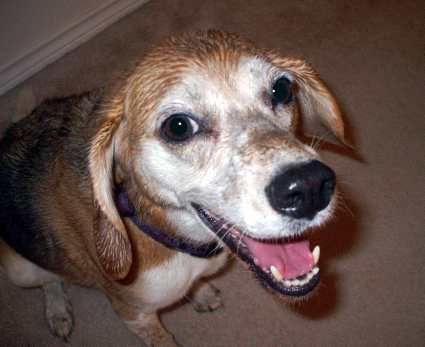 Look at her eyes! Bunny-scent is like crack to beagles, I swear. Anyway, she was soaked through and had to have a good toweling (three towels' worth).
Meanwhile, our poor parched yard is gratefully soaking up the rain that Cressie left outdoors. Hermine should be here for the rest of today and tonight, and taper off tomorrow. I do love writing on rainy days and sleeping on rainy nights.