Reviews, The Flower Reader | Elizabeth Loupas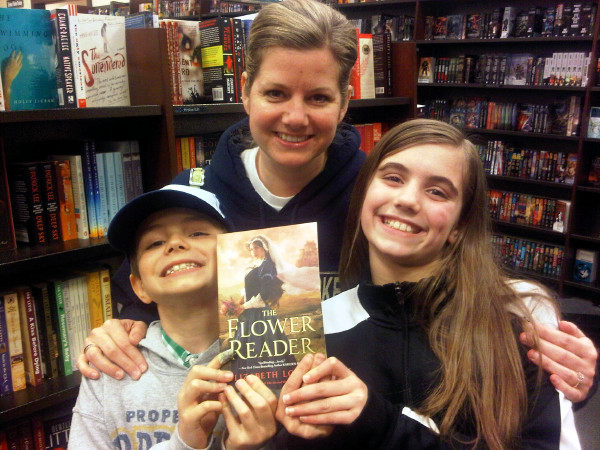 I'm taking a page out of Flat Stanley's book and launching a "Flat Rinette" campaign! Grab a copy of the book, take it somewhere fun and snap a picture of it, then send me the picture with some details about where you took it and what you were doing. Let's see if we can't take Rinette on a trip from border to border, coast to coast, and around the world! The "Flat Rinette" photo collection has already begun on Pinterest, so drop by and say hi. Above you see the very first photo, featuring my favorite daughter-in-law Jennifer and my darling grandchildren Grayson and Miranda. Hi, sweeties! 🙂
Fabulous reviews for The Flower Reader by Kayla Posney in The Examiner and at Diary of a Book Addict. As part of my online book tour, more reviews at Confessions of an Avid Reader and Raging Bibliomania.
I guest posted about the real silver casket at Tina's Book Reviews; I also wrote about floromancy and just what a "flower reader" is at Confessions of an Avid Reader.
Had a delightful event last Thursday night at A Real Bookstore in Fairview. The terrible tornados on Tuesday had delayed it, but Teri and David were wonderful hosts and four lucky winners went home with beautiful pressed-flower bookmarks. Coming up this Saturday, I'll be signing at Murder by the Book in Houston and giving away more bookmarks.
You know? Right now I'm feeling about as "flat" as Rinette, so I think I'd better go sit in the corner with the doggies and give myself some beagle-ear therapy. Then I need to spend some time in sixteenth-century Florence…