The Taste of Cloves | Elizabeth Loupas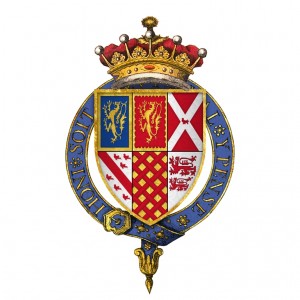 …and a few missing Countesses as well.
Renovations to Sheffield Cathedral have turned up the intriguing fact that the bodies of the fourth Earl of Shrewsbury, George Talbot (arms at right, and also see below regarding Talbot Hounds) and a number of his family members/descendants, are not in the crypt where they're supposed to be. There's more detail here:
And if you'll take the more breathless speculations with several large grains of salt, here you'll find a list of the missing bodies, as well as some pictures of the fourth Earl's effigy, flanked by his two countesses (also see below):
Mystery of the Missing Coffins
I am particularly interested in this because I am interested in Mary, Countess of Northumberland, who was born Mary Talbot, the daughter of the fourth Earl of Shrewsbury (by his first wife). She's not a particularly famous figure in glittering, Tudor-headlined sixteenth century England, but her arranged and desperately unhappy marriage, and her shocking (for the time) attempt to escape it, could have prevented Anne Boleyn's marriage to Henry VIII, and thereby changed the course of history.
There's very little known of her from primary sources, but what an incredible story can be imagined, given what we do know. And elusive as she is, it's only apt that her earthly remains appear to have vanished into thin air…