Boudin at Fifteen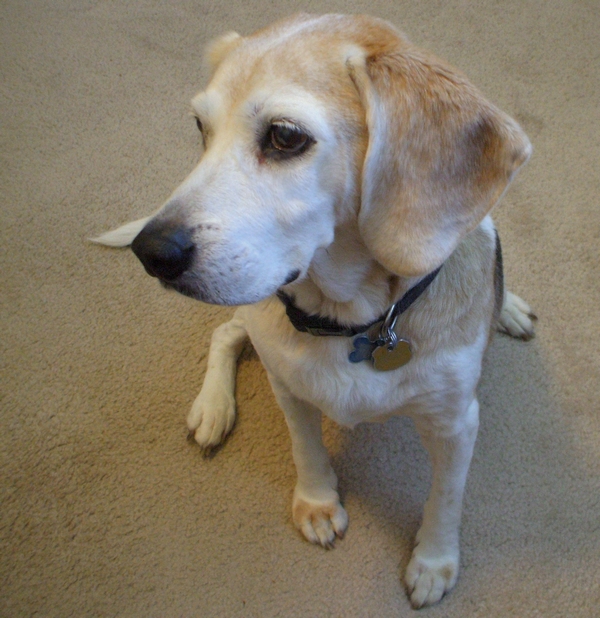 It's pure coincidence that Boudin and Cressie both celebrate their fifteenth birthdays this month. We adopted Cressie from Houston Beagle and Hound Rescue in 2002. In 2007 we lost our beloved Raffles,  and by the beginning of 2008 we were ready to rescue another beagle. Who should come along but Boudin, with several strikes against him—he was "too old" (seven, poor baby), heartworm-positive and with a ghastly ear infection, a confirmed cat-chaser (we had an elderly cat at the time) and an escape artist who'd already been returned by at last one adoptive home. Aww, Boo. I lost my heart from the moment I saw his picture. He came home with us on January 6, 2008.
He was a little frail from the heartworm treatment, but we "fed him up," as my mother would have said, and within a few months he was officially heartworm negative. We solved the rest of his health issues. He turned out to be gentle and friendly with Bob, our geriatric kitty. He did escape a few times (and I have the extra gray hairs to show for it), but eventually he settled in. He is the most affectionate, sweetest-tempered fellow you can possibly imagine, and we love him dearly.
When he was first surrendered to animal control his age was given as "6 yrs 2 mos," and counting back, that would have put his date of birth sometime in June 2001. We don't know the actual day, so we assigned him June 30th. Happy birthday, Boudin Loukaniko. Every day's a gift.