Easter Bonnets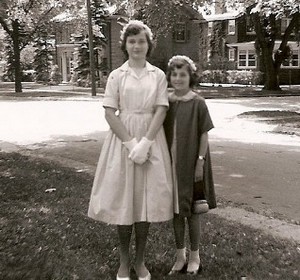 Happy Easter! Christos Anesti, for the Greek side of the family!
I suppose this picture belongs on a #TBT Throwback Thursday post, but I found myself thinking of it today, and so dug it out of one of my scrapbooks. It is, of course, my sister Barb and me one Easter morning when we were girls. I remember that cotton shirtwaist dress—it was pale pink. Note the correct (!) white gloves and crescent-shaped flower hat, which was almost more like a headband. I don't remember Barb's outfit, so perhaps she will have to chime in to tell us what color it was.
I was probably twelve or thirteen here, which means Barb would have been nine or ten. (We're now pretty much exactly the same height.) We're standing in our little side yard along Logan Street. Yes, I think it's quite all right to have #TBT pictures whether it's Thursday or not!