Mother's Day 2014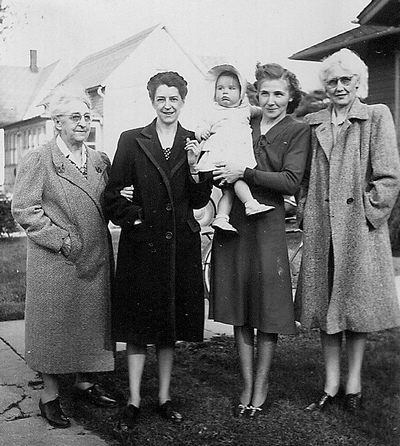 It was Mother's Day 1947. In those days (gulp) taking pictures was a rarer and more formal thing. Someone (my father? My grandfather?) lined up the women of the family for a snapshot with fourteen-month-old me in my beautiful young mother's arms. I don't remember it, of course–not even the enormous sunbonnet. Can you imagine putting something like that on a toddler today?
Left to right, my paternal grandmother Elizabeth Schroeder Gross (I'm named for her, although that's a story in itself), my aunt Margaret Gross Paugh, me, my dear dear mother Margaret Fleming Gross (to whom The Flower Reader is dedicated), and my maternal grandmother Bonnie Otto Fleming. Bonnie's real name was "Bonnalynn"–one has to wonder where that came from, as she was born in 1887. But her mother's name was Margaret Roxanne Landers, so perhaps a penchant for fanciful names ran in the family. In any case, she herself hated "Bonnalynn" and called herself "Bonnie." but I loved it and always thought that if I were ever fortunate enough to have a daughter of my own (which I'm not, alas) I'd name her "Bonnalynn."
Perhaps one day there will be a "Bonnalynn" in a book….