The Girl with the Painted Face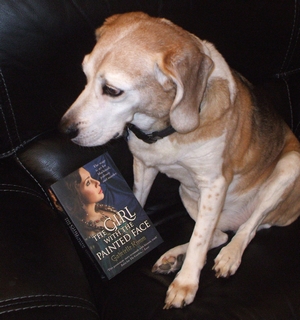 Congratulations to Gabrielle Kimm on the publication day of her new novel, The Girl with the Painted Face! I was fortunate enough to receive a pre-publication review copy from the publishers, which is no small thing, considering that they're in the UK and I'm in Texas.
Now Gaby is a dear friend, but even so—I adored this book. I love anything with a theatrical background (see "Playacting on Paper") and The Girl with the Painted Face combines mystery, adventure, delicious romance and murder most foul, with sixteenth-century Italy and the gritty, colorful glamour of a traveling Commedia dell' Arte troupe. It made me want to go try out for a play somewhere—once I'd finished the book, of course.
Boudin liked it excessively as well, as you can see—just look at the dreamy look on his face—and says his favorite character is little Ippo, the dog. Of course….