White Violets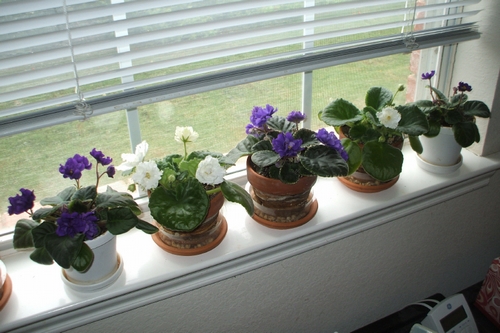 My violets are blooming their heads off right now. I think they love this south-facing window, which is immediately to my left as I sit here and type.
In The Flower Reader, white violets symbolize Mary Livingston, one of Mary Queen of Scots' "Four Maries" and a good friend to my heroine Rinette Leslie:
Mary Livingston took my hands in hers. She had warm, strong hands. I felt a sense of white violets about her, simple and joyous, although with the deep purple of mourning in the center hinting at darkness to come.
Mary Livingston did have sorrow to come in her life. After Queen Mary was forced to abdicate (and fled to England, with disastrous results), she was accused of hiding away some of the queen's jewels and fine clothing. Her husband was imprisoned and Mary Livingston herself was interrogated and threatened. Later a grant of land the queen had made to Mary and her husband John Sempill was nullified; John Sempill fought strenuously against this injustice and ended up imprisoned, tortured with the boot, and sentenced to death. A broken man, he was allowed to go home to die.
In the end, Queen Mary's son James VI and I restored the disputed land to the widowed Mary Livingston. She last appears in the historical record in 1592, but the exact date of her death is unknown.