I'm delighted to announce that The Second Duchess is a finalist in the historical division of this year's Daphne du Maurier Awards for excellence in mystery and suspense, presented by the Kiss of Death chapter of the Romance Writers of America.
The "Daphnes" will be presented at the "Death by Chocolate" Reception and Awards Ceremony, on the Thursday of the RWA Conference in July. Could there be a better way to die?
Congratulations and best of luck to all the finalists, published and unpublished!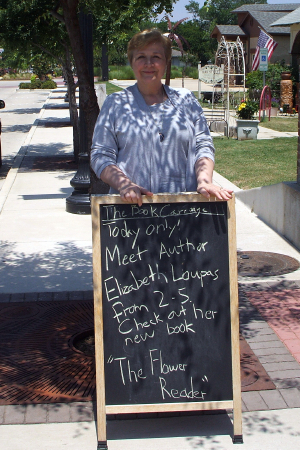 I have been absolutely flattened by a cluster of migraines over the past two or three weeks, so all I can do is mumble a plea for understanding.
I did have a little window of feeling human over the weekend, which I took full advantage of by going up to my favorite little bookstore in Roanoke, the Book Carriage. Their book club had been reading The Flower Reader for their most recent selection, and let me tell you, the book club members had great questions and really insightful comments. It was a wonderful afternoon.
They even had a sign on the sidewalk outside the store! I had to ask the Broadcasting Legend™ to take a picture, because I've never had my name written on a sign like this before. I love the dappled sunlight, and it was a great relief to my poor dazzled migraine-y eyes.
---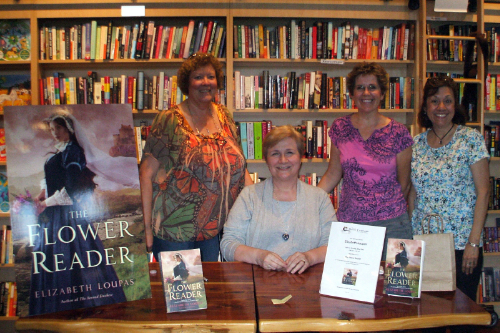 Here I am with, from left to right, Pat, the stellar book club coordinator; Brenda, a brilliant book club reader, and Angie Granados, the co-owner of The Book Carriage. Note the little bit of folded paper on the table—we drew names for one of the last of my pressed-flower bookmarks, and that was the winner (Pat! Congratulations!).
Archives