Rinette is Off to Australia!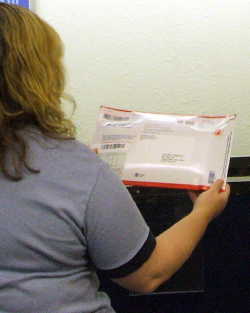 The thing about small town post offices is, everybody knows everybody. When I walked in this morning with Jemidar's book and bookmark, Jackie greeted me happily and wanted to know all about the book and the contest. She helped me with the packaging—the "small flat rate priority box" was just a smidge too small, which was a big disappointment, because if I'd sent it priority I would have been able to track it. As it is—well, Rinette is on her own, and we'll have to wait for Jemidar to let us know she arrived safely.
Anyway, we got the book and the gorgeous purple bookmark into the envelope and got the customs form filled out and just as Jackie turned to put the package in the outgoing bin, I whipped out my camera (I did ask first) and snapped this picture. So there it is. I'm really quite excited about this—it's the first book I've sent to Australia. Australian readers, remember—the UK edition of The Flower Reader from Preface will arrive on your shelves this summer. I think I'll save a bookmark as a prize for the first person to send me a picture of the book in the wild in Australia!