Win a Signed Advance Copy of The Flower Reader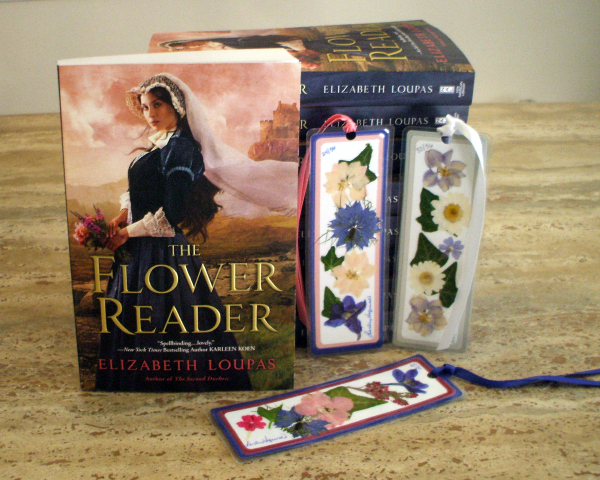 I've just received books—beautiful books! Look at the lovely embossing and rich brushed-gold metallic ink! I am just thrilled with them.
I'm also thrilled with my collection of the most breathtaking custom-made bookmarks, created by flower artist Lesley Hegewald of Butterfly Garden Creations. Each bookmark is unique, made from real pressed flowers and leaves, signed and numbered; what makes each one even more unusual is that I'll include a note identifying the flowers used (thanks to Lesley's care in keeping track) and giving their meanings in Rinette Leslie's lush world of floromancy. On the back, the book cover art and information, of course, plus a few delicate strewn petals.
I'm giving away a signed advance copy of The Flower Reader this week, with one of these gorgeous bookmarks tucked inside. Comment below to enter! Tweet the link or post to Facebook or other social media and get your name entered again for each time you share! (Just tell me what you've done—I'm on the honor system.) Giveaway is open internationally—everyone is welcome. The contest will close at midnight Friday night, March 16th, and I'll announce the winner on Saturday morning, March 17th.
Remember, if this is your first time commenting here, or if you're commenting from a different address, your comment will be held for approval—I'm sorry it has to be that way but you would not believe some of the spam that turns up. Your comment will not be lost, I promise, and I'll add it just as soon as ever I can.