Food Glorious Food | Elizabeth Loupas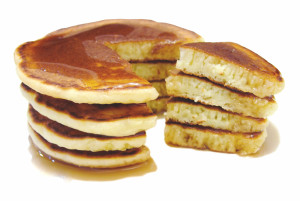 Wow—my coconut cookie post was a big hit, it seems! So today I'm going to post another recipe, although this time, sadly, I don't have a picture—we ate these all up before I put my fork down long enough to get out the camera. This picture, therefore, is not the real Oat Pecan Pancakes, but an imposter—a sort of placeholder of pancake-y goodness. Picture or no, though, take my word for it—these are really good, and with the richness of the pecans, perfect for that Shrove Tuesday/Mardi Gras/pre-Lent splurge.
Oat Pecan Pancakes Chez Loupas
1 cup flour (For more nutrition use 1/2 white and 1/2 whole wheat. You can also use 1/2 white and 1/2 cornmeal for a johnny-cake-like flavor and texture.
1 1/2 cup rolled oats. (You can break these up a bit in a food processor, or use quick-cooking oats, but I like the heartier texture of old-fashioned rolled oats.)
1 tablespoon baking powder
1/2 teaspoon salt
2 eggs, lightly beaten
1 1/2 cups milk
2 tablespoons molasses (You can use dark brown sugar for a slightly milder flavor.)
2 tablespoons melted butter
1/2 cup chopped pecans
—–
Stir together dry ingredients—flour, oats, baking powder and salt.
Stir together wet ingredients—eggs, milk, molasses and melted butter.
Add wet ingredients to dry ingredients and stir just to combine.
Let stand for a few minutes. This is important—it will soften the oats and make your pancakes fluffier by giving the baking powder a head start.
Just before cooking, fold in the pecans. Want to keep these crisp!
Ladle batter onto hot, lightly oiled (or buttered or cooking-sprayed) griddle by quarter-cupfuls or so. When bubbles have formed on the top and the edges begin to look dry, flip. The second side will be done in about half the time it takes to cook the first side.
These are utterly heavenly with real maple syrup. They're pretty darn good with plain old pancake syrup, too.