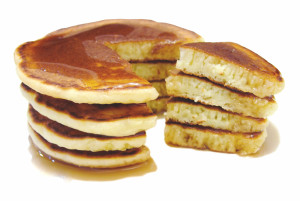 Wow—my coconut cookie post was a big hit, it seems! So today I'm going to post another recipe, although this time, sadly, I don't have a picture—we ate these all up before I put my fork down long enough to get out the camera. This picture, therefore, is not the real Oat Pecan Pancakes, but an imposter—a sort of placeholder of pancake-y goodness. Picture or no, though, take my word for it—these are really good, and with the richness of the pecans, perfect for that Shrove Tuesday/Mardi Gras/pre-Lent splurge.
Oat Pecan Pancakes Chez Loupas
1 cup flour (For more nutrition use 1/2 white and 1/2 whole wheat. You can also use 1/2 white and 1/2 cornmeal for a johnny-cake-like flavor and texture.
1 1/2 cup rolled oats. (You can break these up a bit in a food processor, or use quick-cooking oats, but I like the heartier texture of old-fashioned rolled oats.)
1 tablespoon baking powder
1/2 teaspoon salt
2 eggs, lightly beaten
1 1/2 cups milk
2 tablespoons molasses (You can use dark brown sugar for a slightly milder flavor.)
2 tablespoons melted butter
1/2 cup chopped pecans
—–
Stir together dry ingredients—flour, oats, baking powder and salt.
Stir together wet ingredients—eggs, milk, molasses and melted butter.
Add wet ingredients to dry ingredients and stir just to combine.
Let stand for a few minutes. This is important—it will soften the oats and make your pancakes fluffier by giving the baking powder a head start.
Just before cooking, fold in the pecans. Want to keep these crisp!
Ladle batter onto hot, lightly oiled (or buttered or cooking-sprayed) griddle by quarter-cupfuls or so. When bubbles have formed on the top and the edges begin to look dry, flip. The second side will be done in about half the time it takes to cook the first side.
These are utterly heavenly with real maple syrup. They're pretty darn good with plain old pancake syrup, too.
The first chapter, just to whet your appetite—see the link at right, and on the Flower Reader page.
Enjoy!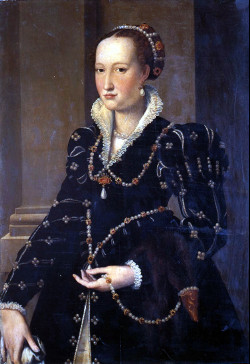 I've been digging around in various sources trying to pinpoint the marriage dates of Isabella de' Medici and Lucrezia de' Medici. The thing to remember here is that although Isabella is a secondary character in The Alchemist Prince, at the time the story starts she's been married to Paolo Giordano Orsini for over fifteen years, and the specific date of her wedding is pretty much irrelevant. But two of my favorite books on Isabella and her contemporaries—Caroline Murphy's Murder of a Medici Princess and Gabrielle Langdon's Medici Women: Portraits of Power, Love and Betrayal—give different dates. This sort of thing is irresistible to historical novelists. How could the specific date of Isabella's marriage be in question? What was it really?
Part of the answer may be in the damnatio memoriae ("condemnation of memory," the erasure of a personage from the historical record) that appears to have been instituted against Isabella after her ignoble (for her time and place, at least) death. One would think there would be more portraits and letters and records of a woman who was Cosimo I de' Medici's eldest surviving daughter, the "star of the house of Medici" and the de facto first lady of Florence from her mother's death until her brother's accession. But no. So much seems to be missing.
Isabella's younger sister Lucrezia, of course, is one of the narrators of The Second Duchess. The date of her wedding ceremony is given over and over: 3 July 1558. This is supported by Alfonso d'Este's presence in Florence for the wedding, and the lavish celebrations and games. But Murphy gives the date of Isabella's wedding as 3 September 1558—after the wedding of Lucrezia, who was her younger sister (something that would have been extremely unusual for the time), and as a sort of private family party as opposed to a public celebration. Langdon says rather vaguely that Isabella was married in "June 1558," with no source given for the date. So what is going on here? Was Isabella married before or after her younger sister? And if Paolo Giordano Orsini and Isabella were not yet married, why did he sponsor an elaborate and expensive game of calcio (Florentine football) as part of Lucrezia's wedding celebration, with one team dressed in cloth of gold and the other team dressed in cloth of silver? Surely he was already a member of the family?
In the state archives of Florence (Archivio di Stato di Firenze) I found a paper by Georgia Arrivo giving brief biographies of Medici women, and extensive bibliographies and source notes. This paper gives Isabella's wedding date as 29 January 1557, with the consummation delayed until 3 September 1558. (Aha, so it was the consummation. Leave it to the Medici to make a family party out of it.) Of course, with dates in January before the Gregorian reform of 1582, we're never entirely sure if the year is given "old style" or "new style."
To me it makes sense that Isabella would have been married in the January prior to Lucrezia's wedding in July, so in January 1558 new style. Part of this is due to the fact that Alfonso d'Este was originally betrothed to Maria de' Medici, Cosimo's eldest daughter, and most likely her wedding would have been the first of the Medici daughters' weddings. Sadly she died (there were whispers that her father murdered her, which couldn't possibly be true—could they?) in November 1557, and Lucrezia was hastily substituted as Alfonso d'Este's bride. With Maria dead, Isabella became the eldest daughter and the first wedding was her due. So my personal conclusion is that she was indeed married in January 1557 (1558 new style), and because she was not yet sixteen, the consummation was delayed until September, after her sixteenth birthday at the end of August.
Now none of this has anything at all to do with the story of The Alchemist Prince. But I'm writing about Isabella and I wanted to know such an important detail about her life, or at least come to a conclusion that worked for me. I needed to know. I do just love historical fiction…
Archives