Freckled Paws and Hoppin' Jim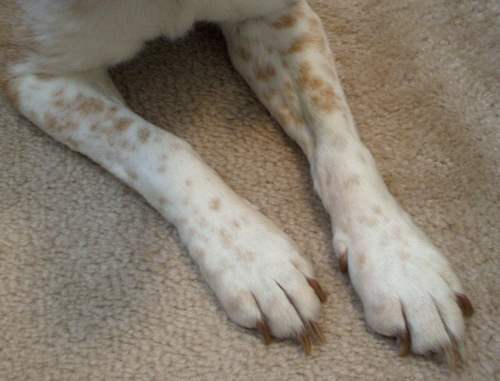 Kalo Podariko! ("Happy First Foot," the Greek wish for a happy new year.) The first foot over our threshold this morning (as it is pretty much every morning) was a freckled beagle paw belonging to our Miss Cress. I love her freckles—I've given her freckled paws to Seilie, Rinette's little hound in The Flower Reader. Since Cressie is a typically beagle "merry little hound," I think she'll bring us happiness in the year to come.
Living in Texas as we do, we're also supposed to eat black-eyed peas for luck on New Year's day—the dish is called "Hoppin' John," the etymology of which is obscure. Sadly, the Broadcasting Legend™ and I don't really like black-eyed peas. Heresy, I know. What we've done is create our own version, which we call "Hoppin' Jim." Heh. It's a sort of bean soup made with ordinary white beans and the bone from the Christmas ham, and it is delicious. I'd post a recipe, but none of the things Jim cooks actually have recipes. He'd say something like, "Well, you take the ham bone and put in the beans and some other stuff and simmer it all afternoon." Right.
I like vegetables—shredded carrots and greens of some sort—in my Hoppin' Jim, but I have to add those separately so as not to sully the purity of the original.
Warmest new year wishes to all, and God bless us every one.