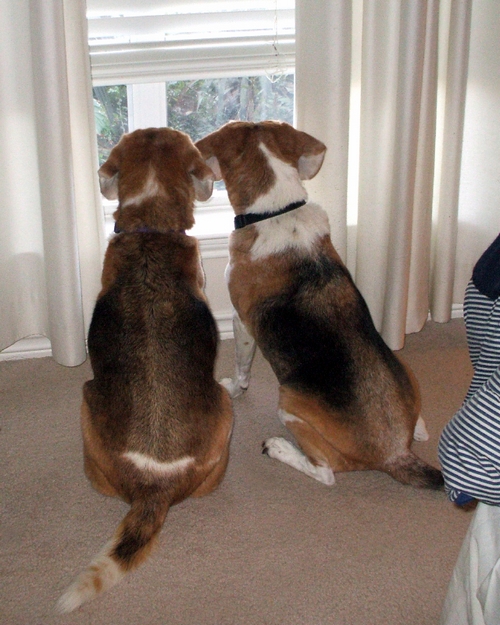 Haven't posted a beagle picture for a while! Here are Cressie (left–note the white crescent on her rear end that gives her her name) and Boudin, intent on some adventure happening in the front yard. We've had enormous geckos this year–not sure if it's the hot dry summer or what, but I've seen lizards the size of squirrels running up the trees. (Well, maybe that's a teensy exaggeration. But really big lizards.) That may have been what fascinated them so.
In other fascinating news–The Second Duchess is in the finals for the 2011 Goodreads Choice Award for historical fiction! I am amazed and excited and thrilled and so happy. If you feel moved to vote, go here.
Cressie and Boo thank you!
As authors we know, or we learn quickly, that readers' reviews are not about us–they're about our books, and by publishing our books we've set them free into the wild to find their own ways, take their own knocks, and make their own friends. Sometimes it's fabulous and sometimes it hurts, but you know, that's what a community like Goodreads is about. It's about readers, not writers.
That's why it's so incredible and fantastic to me that The Second Duchess is a nominee in the opening round in the Historical Fiction category of the Goodreads Choice Awards for 2011. I have to say, it is in some pretty elevated company. Please vote for your favorite in all the categories!
Huge thanks to everyone–yes, everyone–who's read and rated The Second Duchess on Goodreads.
Archives