Well, Boudin does have cherry eye in his right eye, unfortunately–but it's a mild case and the vet showed me how to massage his eye (through the lids, of course, with the eye closed) to coax the third eyelid back into place. We also have some eyedrops that are supposed to help. As you can see, Boo is not letting a little thing like cherry eye interfere with his reading.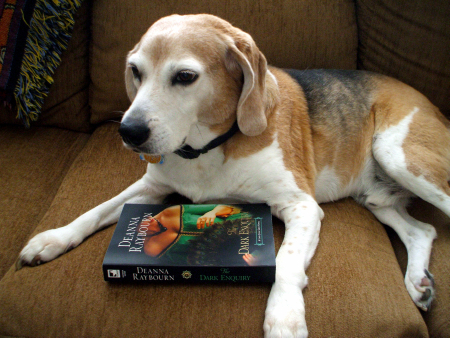 I loved The Dark Enquiry, the fifth adventure of Lady Julia Grey (now Lady Julia Brisbane, of course), by Deanna Raybourn. Not only do we get to spend more time with Lady Julia herself, her deliciously enigmatic husband Nicholas Brisbane, and her eccentric family–we get to delve into the Victorian craze for spiritualism, with side trips to a gypsy camp (and what you will learn there will astound you!)  and the intricacies of Her Majesty's secret intelligence offices. Muchly recommended!
Sadly, Boudin is on injured reserve this morning, with an inflamed nictitating membrane (the third eyelid) in his right eye. He has an appointment with the aptly-named Dr. Clawson at ten, and we're hoping it's just a passing thing. Beagles are prone to something called cherry eye, which is more serious. So fingers crossed for our Boo!
Cressie, however, happily took up the slack as a lone honorary wolf. Here's how it worked: since we had five commenters, I laid out five kibbles in a row.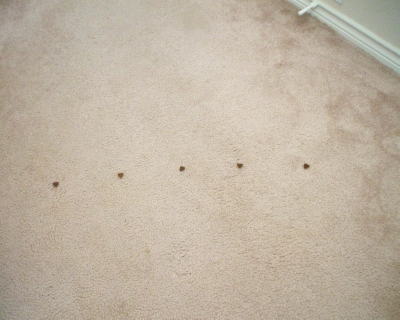 I then manned (womaned?) the camera as the Broadcasting Legend™ carefully positioned Cressie in the exact center of the row, about five feet away. He then released the wolf beagle and I snapped the picture.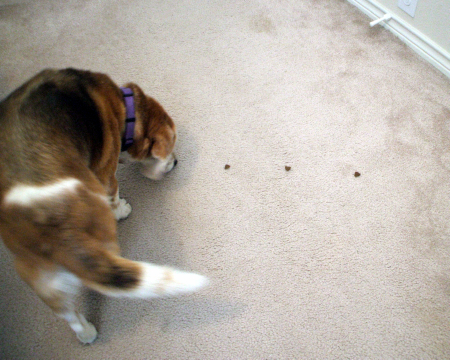 She made a beeline for Kibble Number Two, so Liz Michalski, as the second commenter, you are our winner! You will be hearing from Dee.
Thanks to everyone who visited and commented, and all our best to Dee Garretson and Wolf Storm.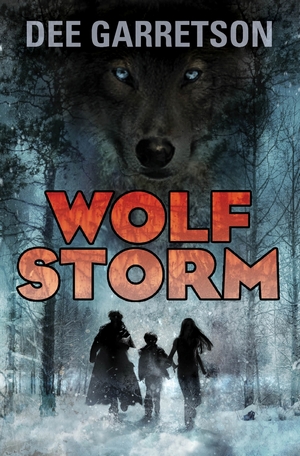 …author of Wolf Storm, a brand new middle-grade/young teen book from HarperCollins, who is just as obsessed with research as any historical fiction writer. Take it away, Dee! (And readers, don't miss the chance to win a copy of Wolf Storm–info at bottom of post!)
—
"Castles in Slovakia, plum dumplings, Peter O'Toole, Gregory Peck. These were some of my research topics while I was writing my second middle-grade adventure novel Wolf Storm. To me, research is the most fun part of writing. In fact, I can get obsessive about it, to the point where I have to force myself to stop researching and start writing.
I'm a very visual person, so I spend quite a bit of time searching out pictures of my settings. I love coffee table travel books and check out as many as I can from the library, to surround myself with while I write. It can be tough to walk around in my writing space because open books end up everywhere. I've found it's useful to visit the children's section of the library for materials, because it's much easier to find books full of pictures.
Since Wolf Storm is set in the remote mountains of Slovakia, I knew there wouldn't be houses around, except for the old mountain lodge where most of the story takes place. I love castles though, and really wanted to work a castle into the story, so I searched out real estate sites listing castles and mansions for sale. I found Slovakia did have a number of small castles, so I was excited  I could fit one in. When I came to write the story, the castle ended up as a ruin for plot purposes, but at least I knew it could have been there.
I write in third person close point of view, so I want everything I describe to be what the character sees and observes. That means before I even start writing, I have to decide what my character is interested in, what he or she thinks about, and much knowledge he or she has of the world.  Writing from the point of view of a fourteen-year-old boy means I had to decide what he would care about, besides girls.  Food!  When boys are going through that locust phase of growth and food consumption, hunger weighs on their minds, so my character, Stefan, thinks about food a lot, particularly when it isn't readily available.
That's where the plum dumplings came into story. If I haven't tasted a food, I don't want to use it in a story, so I experiment with recipes. While I was searching I out recipes, I learned one interesting fact—it is not correct to say "Slovakian" food; instead it's referred to as Slovak food. I made a batch of dumplings, and while they didn't turn out pretty, they were delicious. The main problem is that the plums we can get in the U.S. are apparently plums on steroids, much bigger than the plums used in Eastern Europe, so it was hard to get the dough wrapping to stick. The dumplings I made were baseball-sized, when they should have been much smaller.  Here's the site where I got the recipe:
http://www.slovakcooking.com/2009/recipes/pasta/plum-dumplings/
I'm planning a fun book release party and all the food will be Eastern European-influenced, so I'm busy searching out additional recipes.
I know you all might be wondering how Gregory Peck and Peter O'Toole worked into the research.  One of the important characters in the story is an elderly British actor. I've never met an elderly British actor, so I based the character on Peter O'Toole in his later years. It helped me get the dialogue right by imagining what Peter O'Toole would say in each situation. A Gregory Peck reference didn't have to be in the book, but I needed an excuse to gaze upon Gregory's image. In the story, Stefan's mother is an old movie fan, and the boy himself is very good at imitating characters from movies. The movie director knows this and uses a reference to a Gregory Peck movie called The Keys of the Kingdom to get the performance he wants from Stefan. For me to use that reference, I had to watch several different Gregory Peck movies to pick the right one.
Much of the research I do leads me off into finding things I don't end up using in a particular book. It's all good though. Knowledge is never bad, and you never know when a particular bit of information will come in useful in another book!"
—
Wolf Storm by Dee Garretson was released August 30, 2011 by HarperCollins:
This is teen actor Stefan's big break. He's on location in the mountains far from home for his first movie role, filming a blockbuster sci fi adventure. The props, the spaceships, and the trained wolves on set should add up to a dream job, but acting turns out to be much tougher than he ever imagined. When a blizzard strikes, isolating him with his  young co-stars and bringing hungry feral wolves into the open, Stefan must take on his biggest role yet—working together with his co-stars to survive. With no second takes, they only have one chance to get it right…
If you buy books for middle-grade and young-teen kids (if you add up all my step-grandkids and great-nephews in that age group, I have five on my personal list), this is a great choice! Buy it now at bookstores everywhere or from your favorite online bookseller.
Or… and this is the exciting part… WIN a copy for your favorite tweener! Leave a comment (click on "(Number) Comments" under the title above) by Friday, September 9th, and the beagles–acting as honorary wolves, of course–will choose a winner on Saturday, September 10th.
Archives