Beagles, Books | Elizabeth Loupas
Well, Boudin does have cherry eye in his right eye, unfortunately–but it's a mild case and the vet showed me how to massage his eye (through the lids, of course, with the eye closed) to coax the third eyelid back into place. We also have some eyedrops that are supposed to help. As you can see, Boo is not letting a little thing like cherry eye interfere with his reading.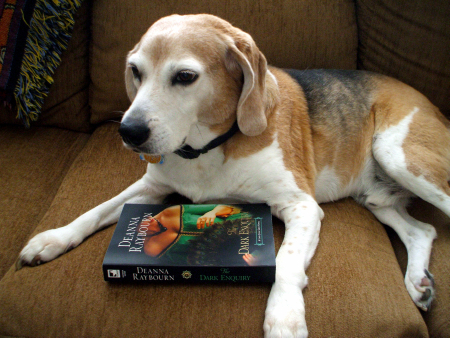 I loved The Dark Enquiry, the fifth adventure of Lady Julia Grey (now Lady Julia Brisbane, of course), by Deanna Raybourn. Not only do we get to spend more time with Lady Julia herself, her deliciously enigmatic husband Nicholas Brisbane, and her eccentric family–we get to delve into the Victorian craze for spiritualism, with side trips to a gypsy camp (and what you will learn there will astound you!)  and the intricacies of Her Majesty's secret intelligence offices. Muchly recommended!