I tried to get the beagles to help me choose the winners of the signed ARCs of The Second Duchess, but as we like to say around Casa Loupas, they have no "reposable thumbs." So although I logged in to the trusty random number generator site, poor Boudin still struggled with the keyboard.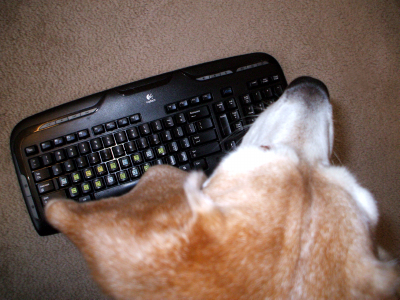 However! With a little help from Mama, the selection of the random numbers was successful, and the winners are:
Theresa de Valence
Mari Bonomi
Congratulations! I will be writing to you both so you can send me your snail-mail addresses.
I will also send a signed postcard (which is not only very pretty but works perfectly as a bookmark) to anyone who asks. Yes, international requests are welcome. Just drop me an email with your mailing address… my email address is under the "Contact" tab above.
Thanks to everyone who participated, and those of you who are in the Dallas/Fort Worth area… I'd love to meet you in person at the book launch party this Tuesday, March 1, at The Book Carriage, 304 North Oak Street, Roanoke, Texas.
Enter today to win one of two signed ARCs (Advance Reader Copies) of The Second Duchess! I welcome international entries—although if you're in Germany, the German edition of The Second Duchess—Die Zweite Herzogin—is releasing in April from Rowohlt, and if you pre-order that I'll love you forever.
Now, as I said last week, I get very frustrated by giveaways that make me do specific complicated stuff other than just leave a comment in order to win. Naturally I'd love to have you spread the Duchess love, but this contest is completely on the honor system. So to enter, just leave a comment here. Then as the spirit may move you (and of course I hope it moves you a lot) tell a friend, tell a perfect stranger, ask at your local library, blog, tweet, post to Facebook or your favorite message board, suggest the book to your book club, skywrite the title across your city (well, no, probably not that, heh)—I'm sure you'll come up with lots more fantastic ideas. If you want to share your idea in your comment, all the better.
You have all week to enter, let's say through midnight CST on Friday, February 25th. The beagles will choose the two winners and I'll announce the names here on Saturday morning, February 26th.
Good luck to everyone!
Less than three weeks left until March 1st, The Second Duchess's official release date. I am excited, scared, thrilled, and anxious. Is this really happening at last? Sometimes it doesn't seem quite real. Have you pre-ordered? It would be wonderful if you would–you can place an advance order at your favorite bookstore or online at Amazon, Barnes & Noble, Powell's, Books-a-Million, and of course your favorite online independent bookstore. If you're in the Dallas Metroplex, please order from The Book Carriage. If you're in Houston, please order from Murder by the Book.
And speaking of The Book Carriage–this beautiful independent bookstore in Roanoke, Texas, is hosting my release-day booksigning event for The Second Duchess, from six to eight in the evening on March 1st. Roanoke is halfway between Dallas and Fort Worth, so convenient for everyone in the metroplex. If you're anywhere in the area, please come by to say hello! There will be an open bar (espresso bar, that is) and lots of fun and good conversation. The address, phone number and driving directions for The Book Carriage are here.
I've just been scheduled for my first live book club chat! This one is via telephone, although I can Skype as well. Would your book club like to read The Second Duchess? Would you like me to chat with you live (probably with beagles barking in the background)? Write to publicist Kayleigh Clark (Kayleigh dot Clark at us dot penguingroup dot com) at Penguin to make the arrangements. It's free! Yay!
Don't forget that March is Red Cross Month! Make a donation of $25 or more via Writers for the Red Cross and choose from hundreds of free books, including The Second Duchess.
Giveaways for The Second Duchess are still open at Goodreads and for Library Thing Early Reviewers. Sign up now—who knows? This may be your lucky day.
While we're on the subject of giveaways–next week here at Playacting on Paper I'm going to host my own little giveaway of two signed ARCs (Advance Reader Copies) of The Second Duchess. And my giveaway will be open to entries worldwide, so if you're outside the US, this is the one for you. I have to admit that I hate it when contests make me do stuff other than just leave a comment in order to win—so although I'd love to have you spread the word, my contest will be on the honor system. Leave a comment here—and do whatever you'd like to build the Duchess love. Tell a friend, ask at your local library, blog, tweet, post to Facebook or write a review. It'll be up to you, and your ideas will probably be more creative than anything I could ask for, anyway!
Archives