Beagles, Contests, The Second Duchess | Elizabeth Loupas
I tried to get the beagles to help me choose the winners of the signed ARCs of The Second Duchess, but as we like to say around Casa Loupas, they have no "reposable thumbs." So although I logged in to the trusty random number generator site, poor Boudin still struggled with the keyboard.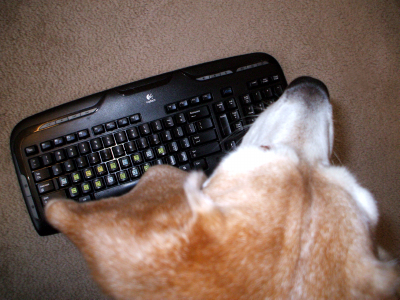 However! With a little help from Mama, the selection of the random numbers was successful, and the winners are:
Theresa de Valence
Mari Bonomi
Congratulations! I will be writing to you both so you can send me your snail-mail addresses.
I will also send a signed postcard (which is not only very pretty but works perfectly as a bookmark) to anyone who asks. Yes, international requests are welcome. Just drop me an email with your mailing address… my email address is under the "Contact" tab above.
Thanks to everyone who participated, and those of you who are in the Dallas/Fort Worth area… I'd love to meet you in person at the book launch party this Tuesday, March 1, at The Book Carriage, 304 North Oak Street, Roanoke, Texas.