Saturday Round Robin I-4
The contest is over! Thank you so much, everyone who commented… I'm delighted that there were many new visitors to the blog, all with such terrific comments about Deanna Raybourn's wonderful new Dark Road to Darjeeling. The winner will be announced on Monday.
The cover of The Second Duchess is now up on Amazon. Yay! Hope the rest of the bookstore sites will follow soon.
And speaking of covers—here's the gorgeous cover of the German edition, titled Die Zweite Herzogin and scheduled for next spring. The piece of fine art that Rowohlt used is actually a portrait of an Italian lady, said to be Barbara's mother-in-law Renée of France, by a Flemish painter named Pieter de Kempeneer, also known as Pedro Campaña. I love her earrings and wish I had a pair just like them! I am very fortunate in both my covers, and have my fingers crossed that someday there will be more.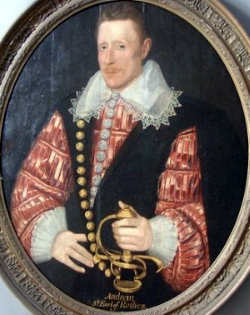 Portraits are surprising sometimes. I've been collecting portraits of the historical characters who will appear in The Silver Casket, and was truly amazed when I found this one. It's of Andrew Leslie, the fifth Earl of Rothes, who is the head of my heroine Rinette's branch of the Leslies. Now if I just started describing a sixteen-century gentleman like this—light brown hair cut very short on the sides of his head and apparently moussed into a sort of pouf on top, clean-shaven with only a thin Douglas-Fairbanks-y moustache—no one would believe me. Yet here is the portrait, leaping to life off the page. History is pretty amazing sometimes.
What I'm reading: A Reliable Wife, by Robert Goolrick. I'm kind of struggling with it. Also The Passage by Justin Cronin, which I've also had my issues with. I've just been kind of stressed and cranky lately, although I'm much better now. More about that later. Heh. Next up, at last (because I've really been looking forward to it), The White Garden by Stephanie Barron.
Our little town is having our trick-or-treating tonight, so am looking forward to hordes of darling little trick-or-treaters. We live within walking distance of a very fine elementary school, and so our neighborhood teems with adorable tykes. The doggies always go crazy on trick-or-treat night, and may have to be shut in the laundry room to keep them from slipping out or jumping up to play and scaring the tiniest ghaisties and bogles.
Ran across this quote recently: "What we become depends on what we read after all the professors have finished with us. The greatest university of all is the collection of books. –Thomas Carlyle.