Books, Reading | Elizabeth Loupas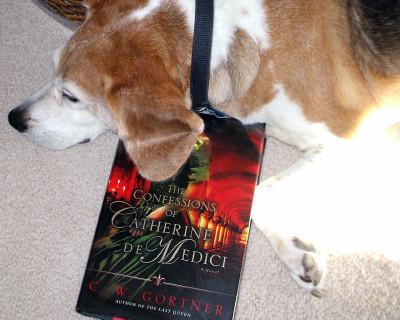 A patch of sun and a good book—who could ask for more?
First I just have to say that C.W. Gortner's The Confessions of Catherine de' Medici is a physically gorgeous book—a stunning cover, a satisfying heft in the hands, an elegant layout of the pages. Even if I didn't know Christopher (which I do, in the interests of full disclosure, albeit very slightly) I would have picked up this book for the sheer beauty of it.
So I was ready to sit down in my own patch of sun with a bowl of popcorn and a beagle (or two) at my feet and utterly lose myself in sixteenth-century France.
I wasn't disappointed.
The fictionalized memoir is a law unto itself. That's the fun of it—it doesn't necessarily have to follow recorded history. After all, historians—and particularly those writing in a polarized era like that of the religious wars in France—have their axes to grind. And none of them could really know what was in one woman's heart.
So Gortner imagines us into what only Catherine de' Medici herself might have seen and done and known. Do I always agree with the version of history his Catherine recounts? No. But that's the whole point—it's history from Catherine's own point of view. It wasn't "history" when she lived it, after all. It was her life, her fears and loves and longings and insecurities and triumphs and failures. Her secrets. Her confessions. However much outsiders may have called her Madame la Serpente, from the inside she was a human woman like any human woman today, seeing the world in her own unique way, fighting keep her place (and are we all not fighting to keep our jobs today, in today's polarized world?) and see her family achieve success.
A satisfying read, and—highest of accolades for historical fiction—one that led me to delve into nonfiction sources (more than I already had) on Catherine de' Medici and her world.