Kalo Podariko 2010!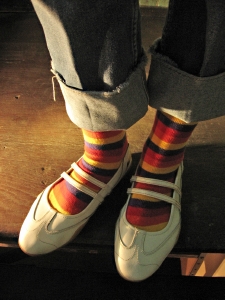 "Happy First-Foot" again for 2010, and may the first foot to cross your threshold today bring you health, happiness and prosperity in the new year.
When it's typed or written, "2010" looks really different from "2009"—more consistent, streamlined and futuristic. A solid, stable, blocky-looking year. I'm counting on you, 2010, to follow through on that promise. 2009 was a very good year for me in many ways (like this, this and this) but it was an exhausting and heartrending roller coaster of a year in other ways, purely personal. I am ready for some consistency. Some solid, stable, blocky-looking days and weeks and months. Bring them on, 2010.
My resolutions: love more, laugh more, read more, write more. Kalo Podariko!