Book Shopping, Day 22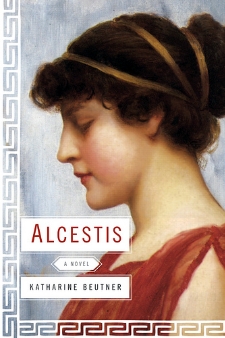 [Again today I welcome a guest blogger—this time with a suggestion for new twist on book-giving: the pre-order! So many wonderful books are coming out early in 2010, and it's so easy to pre-order, print off the page and tuck it in a pretty card to put in your loved one's stocking. They'll thank you when a beautiful book appears to brighten the doldrums of February!]
Hello! I'm Katharine Beutner. First of all, many thanks to Elizabeth for kindly inviting me to write a guest post for her holiday book-shopping series about my forthcoming book! [You're very welcome! –Elizabeth.]
Like Elizabeth's The Second Duchess, my debut novel Alcestis gives voice to a fabled female character who lived a remarkable life. Alcestis retells the story of a Mycenaean queen who chooses to go to the underworld in her husband's place. In Alcestis' world, the gods are not abstractions—they're her relatives. Her grandfather Poseidon might drop in to visit at any time, and might not be very pleasant when he does. The novel follows Alcestis from her childhood through her marriage to her cousin Admetus, the young king of Pherae, then shadows her into the underworld. She's one of few female characters in Greek mythology to make this journey, but the myth of her life is not widely known.
My inspiration for the novel came from two sources. The first is the beautiful Rilke poem about Alcestis, which I read as a teenager. (I highly recommend Stephen Mitchell's translations of Rilke.) I studied classics in college, and finally read Euripides' Alcestis after graduating. I love Euripides, but I was stunned by the ending of the play, in which Alcestis is rescued from the underworld by the hero Heracles, a friend of her husband's, and brought back to life as if nothing had happened. Essentially, she's treated like a prize, while men who venture into the underworld—Odysseus, Orpheus, and later Aeneas—get their own epic poems. I wanted to write a version of Alcestis' story that would not only cover the three days she spent in the underworld, but would allow readers to experience life in a world peopled by capricious gods.
Alcestis will be published on February 1, 2010—it's currently available for pre-order at Amazon (in Kindle format, too!), Barnes & Noble, Powells, and IndieBound.
[Elizabeth again. I can't wait for my own pre-ordered copy of Alcestis to arrive, and an "IOU" of Alcestis to come would make a wonderful gift for anyone who loves historical fiction, Greek mythology, or simply strong tales of remarkable women.]