Happy Thanksgiving!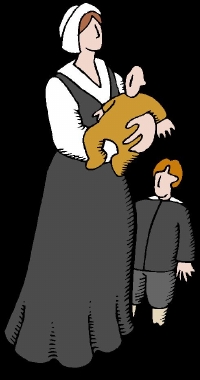 My ancestors didn't come over on the Mayflower, but they were not far behind on one of the voyages of the Abigail, which sailed from London April to July 1635, arriving in Massachusetts Bay. Henry Collins, my ninth great-grandfather, a starchmaker (all those ruffs and caps had to be starched by someone, you know) from Stepney, Middlesex, brought his wife Ann and his three young children Henry, John and Margery. I'm descended from John (who was only three at the time of the voyage), through the Motts, Rhodeses, Sarjents, McConnells and Flemings.
So although they weren't Pilgrims but ordinary Puritan tradesmen, here's to the Collins family, who sailed to the New World and settled in Lynn, Massachusetts. Here's to Ann Collins, who undertook a two-month-plus voyage across the Atlantic in cramped shipboard quarters with three children, ages five, three and two! Men may have gotten all the credit for bravery in those days, but a woman who could manage that is a woman I'm proud to be descended from.
Happy Thanksgiving wishes to everyone—because even if you don't celebrate Thanksgiving Day as a holiday, it's always good to be thankful.