Beagles, Reading, Research, Wine, Writing | Elizabeth Loupas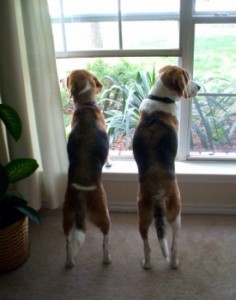 I've been doing lots of waiting lately. In the meantime, I've been:
Writing: The first chapter of my new book. Actually I've been doing so much research and planning that I'm only doodling with actual narrative, a line here, a snatch of dialogue there. I'm definitely an outliner and I need a detailed plan with a lot of associated research and background before my stories form themselves into write-down-able words. The upside of this is that once the characters and setting and shape of the story are firmly fixed in what passes for my mind, the words themselves pour out.
Reading: actually re-reading. The World is Not Enough by Zoë Oldenbourg. Originally published in French as Argile et Cendres, translated into English by Willard R. Trask. One of my favorite historical novels of all time.
Also reading: Mary of Guise in Scotland, 1548-1560: A Political Career, by Pamela E. Ritchie. One of those satisfying combinations of reading for research and reading for pleasure.
Cooking: sautéed chicken breasts to be sliced over salads. I think I've discovered the secret to perfect tender sautéed chicken breasts: marinate or season to taste, then sauté the presentation side on high heat for three to four minutes, depending on the thickness of the breast. Creates beautiful color. Then reduce heat to low, turn the breast over, cover, and cook the second side twice as long as you did on the first side. Remove from pan and let rest for five minutes or so before slicing.
Eating: well, drinking, actually. A delicious wine sent to me by my friend, mystery writer Dana Fredsti. It's Chariot's Gypsy 2007, a blend of Cabernet Sauvignon, Petite Sirah, Zinfandel and Sangiovese from California vineyards. Unfortunately we don't have Trader Joe's in Texas, or this would become my co-favorite red wine with Roditis.
Walking: early mornings and late evenings because of the 100° heat. There's nothing like walking with a beagle or two to take one's mind off… well… waiting.