History, Moons, Stargazing | Elizabeth Loupas
Here's my stargazing schedule for the coming month:
February 3rd: the gibbous moon will pass north of the Pleiades, eclipsing (well, the real term is occulting) some of the brightest stars. The dark side of the moon will cover the stars first, and then they will reappear from the moon's bright side. Pretty cool.
February 9th: the full moon, called the Snow Moon. On that same night, there'll be a penumbral lunar eclipse, which means the moon will pass through the edge of the Earth's shadow. Truth be told, you won't really see anything, but why not watch and imagine?
February 24th: Comet Lulin, a unique two-tailed comet, will reach its peak of brightness. Lulin was discovered in July 2007, and is named for the Lu-lin Observatory on Mt. Front Lu-Lin in Taiwan.
February 27th: the crescent moon and the bright planet Venus will be only a degree and a half apart. I am going to try to take a picture of this. I managed a fair picture of the "sad face" moon-Venus-Jupiter conjunction on December 2nd: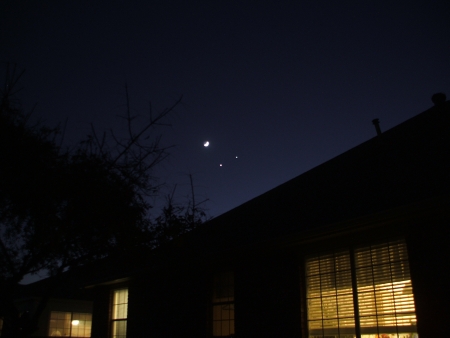 The crescent of the moon is a little blurry, but as the Broadcasting Legend™ says, 252,000 miles is a pretty long focal length for our little backyard camera. One day I'm going to buy the adapters and gadgets I need to attach the camera to my telescope. Although I don't really want my stargazing to get too professional. What I love about it the most is the mystery and the history—the sense of millenia of people looking up at the sky and seeing the same things.